Necessity is the mother of invention. Throughout the history of Sun Valley, the offspring of necessity has been a game changing innovation. It's a brainchild that keeps the creator up at night, hanging it out both financially and emotionally striving to make it work, banking on the belief that their idea will catch on. Driven by the fear of returning to the dish-line at a local restaurant or other menial job needed to fund life in the mountains, the innovator drives harder. For a small town, Sun Valley has spawned more cool ideas per capita than most large cities. The latest emerging players in this story found inspiration out on the trails and in the mountains wishing the tools of their trade were better. Hunkered down at the kitchen table each conceived, developed, and produced over a few short years problem solving niche products which may be as commonplace in the near future as their predecessors' ski goggles and poles.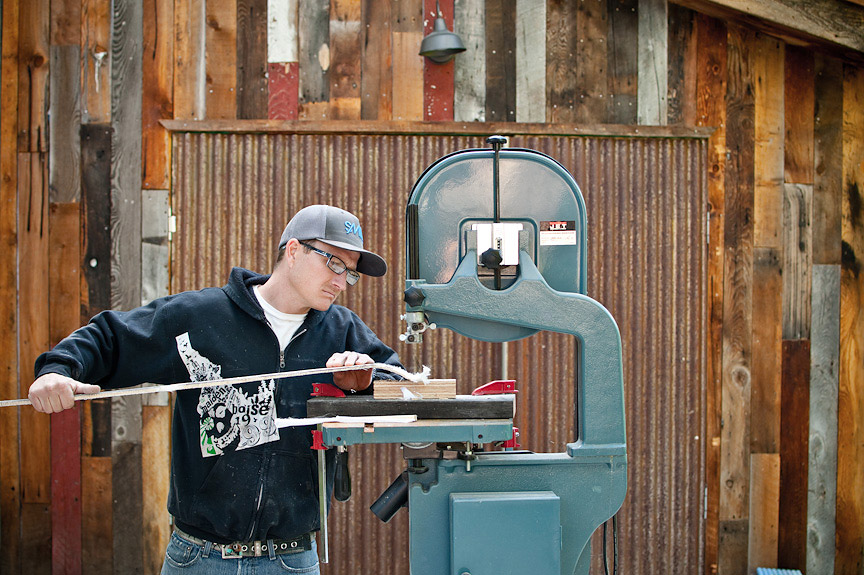 Cory feeds an early prototype into the band saw. Fortunately he was already missing three fingers when this project began.
One of these brands is Mountain Approach, founded three years ago by Smith Optics employee, Cory Smith (no relation, just a popular surname) a former pro snowboarder whose backcountry exploits found a constant antoganist in the snowboard-splitboard-snowshoe-approach ski conundrum.
His brainchild was a foldable ski which would allow a snowboarder to access the backcountry like a skier but descend on a snowboard without the hassle, weight and compromised performance of a splitboard. The brand's hashtag #keepitogether says it all, carry your board on your back, get to the top, slip out of the snowshoe-like bindings, quickly fold these lightweight skis up and stash them in their specially designed backpack. Now the rider is ready to rip on a real powder board in a fraction of the time required to reposition a splitboard set up.
He began with a band saw and homemade ski press in his garage churning out a few prototypes. With engineering help and time in front of a computer with product development experts, his design came to life. The concept resonated from its first unveiling at the SIA tradeshow. Orders started to come in and pro athletes were lining up to BUY them. The slowly burgeoning backcountry snowboard scene was needing a better solution, and MTN Approach was solving the problem.
Accessing the goods one step at a time local riders Tami Harrison (also now an employee) and Jeremy Black climb higher.
Quickly it has blossomed into a small company with three employees and sales which could top $1mm this year. In addition to the ski, Mountain Approach sells the specific backcountry backpack, a carbon fiber 3-piece ski pole, and an avalanche shovel, the basics minus a beacon to get started out of the resort boundaries. He brought John Kaiser on board to run the day to day business as well as Tami Harrison to keep the wheels greased and manage the social media aspects of building awareness. The skis are assembled and packaged in a small warehouse in the Ketchum LI district. They have enlivened local backcountry snowboard culture, and put Sun Valley directly in the conversation.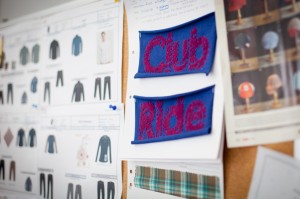 Club Ride Meanwhile across the street, on the other side of the season, Club Ride wakes up, tackling another day of designing and selling clothing for cyclists which are a departure from the status-quo lycra superman suit. Club Ride was born on a hot summer afternoon when its founder, Mike Herlinger, had two goals in mind. A big mountain bike ride and a session of beer hoisting in the shade at a local pub. Not wanting to change between sports, nor quaff in spandex, he dug into his closet and pulled out a short sleeve, western shirt to replace the normal bike jersey. During that ride he began to think about how much better he liked the look and fit of this kind of top over a riding jersey, noting how the materials and design could be easily modified to make it a performance piece which still looked good around town. Club Ride was born. He started getting samples hand sewn locally from fabrics he picked and patterns he designed. Venturing boldly into terrain he had never charted the hard work began.
Club Ride started out looking for a cure for the common dork-fest in riding apparel.
Club Ride HQ with its founder and a line of bikes. The ideal life of controlling your own destiny. More or less.
Mike was all in. Down the last penny in the bank. He had spent everything
Mike was all in. Down the last penny in the bank. He had spent everythinghe had trying to get the idea off the ground. He knew it could work. His local circle of athlete friends had helped in iterating designs loving the samples, reluctant to give them back. His former employer, The Elephants Perch, was selling a few but he needed an injection of capital to make the next step. In the deepest moment of despair, John Perenchio, a local investor, saw the potential in the idea and provided a round of funding, joining Mike in his project.
What came next was another round of products, 75,000 miles in a sprinter van attending events and setting up dealers. He was handling the entire gong show of sales, product development and marketing with "JP" providing business expertise and leadership. The hard work was paying off with magazines like BIKE and Outside picking up the Club Ride look and performance as cool new products. Momentum started to build.
As business began to grow, the opportunity to really seize the moment in a void in cycling culture became apparent. While surf companies sell their logo across the US to people who may have never dipped a toe in the ocean, cycling is the largest participant sport aside from walking in the country. Why couldn't brand affinity and lifestyle fashion come from within a sport that everyone knows and has at some level participated in? Scott Montgomery had recently brought the Scott line of high performance bikes into the United States and was looking for his next project. He saw the big picture potential of Club Ride and bought in, joining as CEO. Ben Bradley joined the company as its marketing brain. Kelli Lusk, former national events coordinator for USA Cycling, had fallen in love with Sun Valley during her time running the national mountain bike championships during Ride Sun Valley and joined the company as its customer service agent. Now the team had taken shape.
Mike Herlinger, founder of Club Ride in a rare moment of repose.
It is a source of pride locally to see the hometown kid come good on his project. And Mountain Approach and Club Ride are that next generation- a source of inspiration and creators of local culture. Their brands are shaping the community and creating something out of nothing but ideas and passion. The tradition continues.
Photos: Mark Oliver, Wyatt Caldwell, and Tal Roberts