When we travel, we all have our tried-and-true activities, but why not spice things up with a one-of-a-kind experience? Get ready for a Sun Valley summer like no other because we've got a whole lineup of arts & culture events that you won't find anywhere else! From our signature summer extravaganzas to offbeat and extraordinary experiences, it's time to create your ultimate Sun Valley summer bucket list. So, throw caution to the wind, embrace the unexpected, and let the adventure begin. Don't miss out on the chance to make memories that will last a lifetime – start planning your Sun Valley summer today!
Sun Valley Museum of Art Concert Series
While this series is a beloved staple of the Sun Valley summer, the museum has gone above and beyond to bring an eclectic mix of concerts that cater to all musical tastes. There's bound to be a concert (or a few!) that will make your summer in truly unforgettable. Check out the incredible lineup and find your perfect summer concert experience right here!
Honorable mentions
Mexico en el Corazon is a free event on Jun 5th! This event celebrates the folk dances and music from all around Mexico. The Touring show is a cast of over 50 people presents an amazing show! While the event is free be sure to reserve your tickets here.
In A Landscape: Classical Music in the Wild is returning for a second time to the Valley.
Audiences are invited to venture beyond seats and walls, immersing themselves in a captivating and classical music experience that embraces the space it's in.
Pride in the Garden Festival
Celebrate Pride with the wonderful Sawtooth Botanical Gardens with food, drinks, and entertainment. This four-day event is hosted at various locations, from Despo's to Sun Valley Resort, and finishes off with a Pride Ride on Saturday! The festivities begin June 14 and carry on till June 17.
Sun Valley Brewfest
With numerous breweries from Idaho and more from the surrounding region, this event is a great way to chat with brewers and friends about beer, cider, and more. Held in the Sun Valley Festival Meadow, grab a beer and play some classic brewery games. Join the fest this June 17th!
Sun Valley Opera
Prepare to be captivated by the mesmerizing performances of the Sun Valley Opera this summer. With a reputation for exceptional productions and top-notch performers, the Sun Valley Opera showcases the grandeur of opera against the backdrop of the stunning Sun Valley setting, presenting some of the top arts & culture events of the season. Concerts on July 17th and August 29th.
Marcus King
Join us in celebrating July 4th with one of the biggest up-and-coming Grammy Nominated artists Marcus King, performing live at the Sun Valley Pavilion featuring Tylor & The Train Robbers. Come out for an evening of live music, good vibes, and a huge fireworks display after the show!
Sun Valley Shakespeare in the Park
Every summer, the Laughing Stock Theater Company brings one of William Shakespeare's timeless comedies to life in an outdoor park setting. This year, the location will be Rotary Park, although the specific show is yet to be announced. While we eagerly await the announcement, let's take a delightful trip down memory lane and revisit last year's enchanting performance of "A Midsummer Night's Dream." The show is typically scheduled for the first week of August, promising unforgettable evenings of laughter and theatrical brilliance.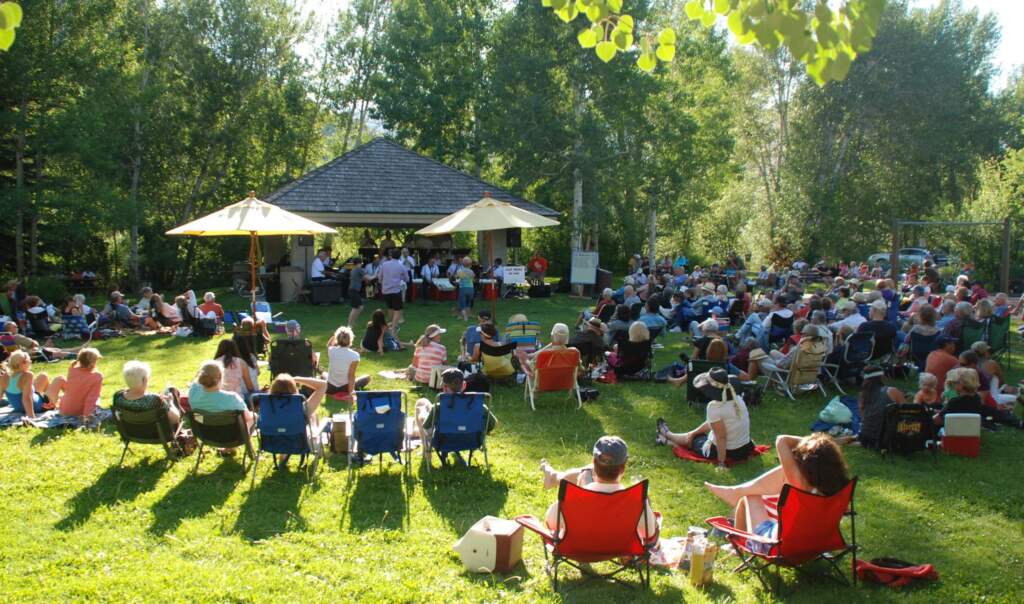 Season-long events
We are fortunate to have a thriving community that is eager to get out and enjoy! There are many season-long arts & culture events that you can catch throughout the summer.
Ketch'um Alive
Hailey Live
Jazz in the Park
Sun Valley Story Tour
Sun Valley on Ice
Sun Valley Gallery Association's Gallery Walks