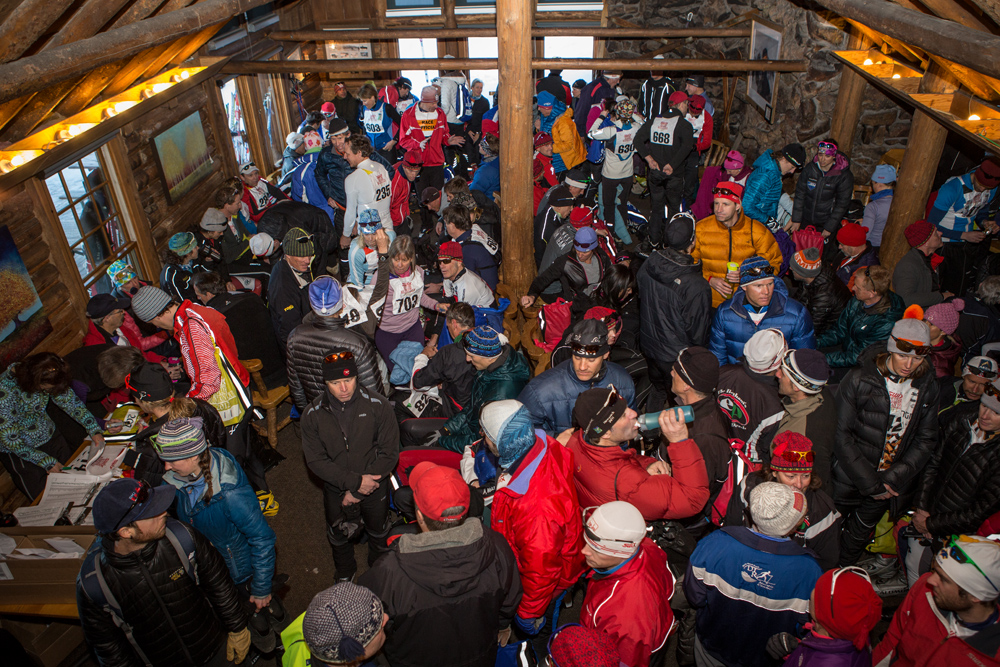 Photos: Ray Gadd
Nordic Town USA
If there was a word to describe Sun Valley, it would have to be a compound word.  Something like skiuntilipartymysoxoff might be a start. Most people think of the area in relationship to its alpine history and celebrity sheen, however that is but part of the equation. The blurry truth is most people here love it all andcan't get enough of it in. It's not because we don't have a Burger King that everyone here looks like they skipped a meal, it's because there is so much to do.  One of these outlets for hyperactive kids and adults is cross country skiing.  Sun Valley is known as Nordic Town USA with over 200 km of Type-A personality groomed trails and the kind of weather that led man to invent Nordic skiing. The claim is an understatement.
The Sun Valley Nordic Festival with the crisp air, perfectly shaped tracks, and heavily breathing humans is a big part of winter in Sun Valley
The Sun Valley Nordic Festival
Each winter these hypoxic lungs with legs gather to celebrate their community, cramming more Nordic activity into a week than Ringling Brothers packs into the main tent over the course of a summer.  The anchor of the week which features group skis, dinners and auctions, Masters Championship races, downtown sprints, live music, parties, and more is the Boulder Mountain Tour, one of the most renowned marathons in the toothpicks and tennis shoes world.
Weather being what it is, one can never predict until about 12 minutes before the Big Race, what Mother Nature will deliver. Wax selection creates widespread insomnia and nightmares ending in cold sweats often needing another round of analysis paralysis.
Red, no wait Blue, no wait Red then Blue with Flouro on top. No low flouro and green. Ah Sh#t I don't know. Just buff it all in there. Waxing makes for night sweats.
Racers of all shapes, sizes, ages and abilities come out to test themselves in the 32 km rolling to downhill course on the Harriman Trail connecting the Galena Lodge area with the outskirts of town.  The nation's elite racers get first crack with wave after wave following in their turbulence totaling nearly a thousand participants in all.
Lined up for what seems like miles, the 900 competitors in the Boulder Mountain Tour prepare for the next one to four hours of their lives.
In a few minutes it will be just you trying to keep a ski pole out of your eye but soon the glide will consume your senses.
The community gets behind the race, turning out to cheer and show support offering everything from free advice to water and chunks of energy gunk to shots of booze and hot soup up along the way.
The Boulder comes with its own version of the Soup Nazi. The Soup Hippie cum Mountain Man…"Yes! My friend! More soup for you! And would you like some whole grain vegan organic bread to go with that?"
The After Party
The VAMPS! Dear Lord, why are they always trying to undo everything I just did? Tall Yukon Jack with a shot of Merlot anyone?
The backdrop can only be described as breathtaking on what is arguably the most scenic stretch of manicured corduroy in the world. In this choose-your-own-adventure world of competitive outlets for mid-life crisis angst, the Boulder always leaves one with a grin and sense of accomplishment.
Dave Bingham is one of those guys who epitomizes the Sun Valley Nordic experience. And he can blow frost rings.
Once the Big Race is over, the fat lady is far from even warming up. Awards and dinner roll the participants into the night with a encore of stoke.
The Details
2022 Sun Valley Nordic Festival Schedule of Events