Skiing & Snowboarding in Sun Valley
Take your pick from lift-accessed resort skiing & riding or the endless backcountry terrain accessed via human power or helicopter in the Sun Valley, Idaho area. Bald Mountain's 3,400 vertical feet of fall line terrain is complemented by Dollar Mountain's family-oriented terrain park and limitless backcountry access that has earned the area the moniker "the Alps of America."
Fresh powder turns, pristine mountain vistas, meticulously groomed trails, or ripping descents on some of America's longest fall line runs - a legendary Sun Valley ski vacation day inevitably ends in high fives. Whatever you seek, you will find here, with a remarkable lack of liftlines and complete absence of snooty-hullaballoo.
Sun Valley Resort
Two mountains, 3400 vertical feet, over 2000 acres of terrain, cold dry snow and the largest automated fleet of snow-making machines in the US are the big picture stats, but they don't convey what it's like to tear down manicured wind-free crowdless slopes in the winter sunshine./p>
Sun Valley Resort has been ranked the number 1 Ski Resort by SKI Magazine and one of Powder Magazine's Top 8 Ski Towns. A Sun Valley ski vacation is where it all began and continues to thrive under the radar today.
Trundle the family out to Bald Mountain's themed Adventure Trails or develop your skills at the innovative Dollar Mountain Progression Park, a terrain and progression park that boasts rails, features, and a Magic Carpet (an effortless uphill child conveyor belt/babysitter).
Welcome IKON & Mountain Collective Pass Holders
For the 2022/2023 season, the Sun Valley Resort is a partner of the IKON & Mountain Collective pass offerings. We've compiled everything you need to know from information on the pass offerings.
IKON
Main Pass = 7-days at Sun Valley, no blackouts
Base Plus Pass = 5-days at Sun Valley, blackout days apply
Main Base Pass & Session Passes = not applicable
Mountain Collective
Main Pass = 2-days at Sun Valley, additional days at 50% off, no blackouts
Sun Valley + Mt. Collective
Bald Mountain
With the highest per hour lift capacity per skier anywhere on earth, you'll get more quality skiing and boarding before lunch here than you will over an entire ski vacation at most other resorts.
Bald Mountain is not for the faint of heart. While there are not the craggy terrain features found at resorts such as Jackson Hole & Snowbird, this mountain is still considerably steep. If you're a beginner or novice skier, we recommend starting your trip out at Dollar Mountain.
Summit: 9,150 ft
Base: 5,750 ft
Vertical drop: 3,400 ft
Skiable Acres: 2,054 acres
Lifts: 18
Beginner terrain: 36%
Intermediate terrain: 42%
Advanced terrain: 20%
Expert terrain: 2%
Dollar Mountain
Sun Valley instructors didn't just bring the Austrian School to Sun Valley 75 years ago, they taught skiers and riders how to fall in love with sliding on snow. As America's first destination resort, they taught the whole country. Happily, it caught on and spread far and wide, but it's always nice to come home to the source to acquire a taste for good old snow sliding. Dollar Mountain's gentle treeless terrain and first class daylodge is ideal for kids and parents to develop their skills and taste for skiing and riding.
Summit: 6,638 ft
Base: 6,010 ft
Vertical drop: 628 ft
Lifts: 4
Terrain Parks: 1
Located just three miles east of downtown Hailey, Idaho, Rotarun Ski Area has been a community hub for local snowsports enthusiasts since 1948. Rotarun Ski Area is currently operated by the Sun Valley Ski Education Foundation (SVSEF); in addition to SVSEF programming, public skiing is offered Thursdays & Saturday as well as Friday evenings. 
Pass prices are as follows:

Children 10 and under – FREE

Children 11-18 - $50 for a season pass, $5 for a day pass.
Family season pass $200. Family day pass $25
Individual season pass - $100. $10 day pass

Friday evenings are free!
Backcountry & Heli Skiing & Snowboarding
Take thirty seconds from the top of Bald Mountain and as far as the eye can see lies limitless backcountry ski terrain. In one of the most remote mountain regions in the west, chances are you will never cross a track or see another human as you plod through the mountains earning your turns. The mountains around Sun Valley are dotted with a network of well-equipped huts and Mongolian-style yurts which offer warm, cozy shelter at the end of a day of backcountry touring. The huts and yurts are strategically placed at the doorstep to some of Idaho's most spectacular powder stashes and inviting alpine terrain. Tour hut to hut or use any as a base to probe deeper into the surrounding mountains. Operated and maintained by local guiding companies, the huts and yurts are also available for rent by independent skiers and snowboarders for the ulitmate Sun Valley ski vacation.
Know Before You Go!
Venturing out in to the backcountry comes with a host of risks and responsibilities. Avalanches, tree wells, shifts in the weather, nonexistent cell service, and remote locations all increase the danger of out of resort recreating. It's up to you and your party to know how to have the proper gear and to know how to use it, to know how to navigate avalanche terrain responsibly, to know how to read the avalanche report, and to minimize all risks to you and others out there recreating.
Checklist:
Avalanche Course Providers:
Know Before You Go - Avalanche Awareness
---
Avalanche Report
Know before you go. The Sawtooth Avalanche Center is dedicated to providing you with up-to-date snow pack information from the areas surrounding Sun Valley. On their site you'll find recent snowfall history, avalanche ratings, backcountry observations and more.
---
Road Reporting
Winter driving conditions can cause road closures. To stay up to date on the status of all the roads in Idaho, check out the great resource from the Idaho Transportation Department.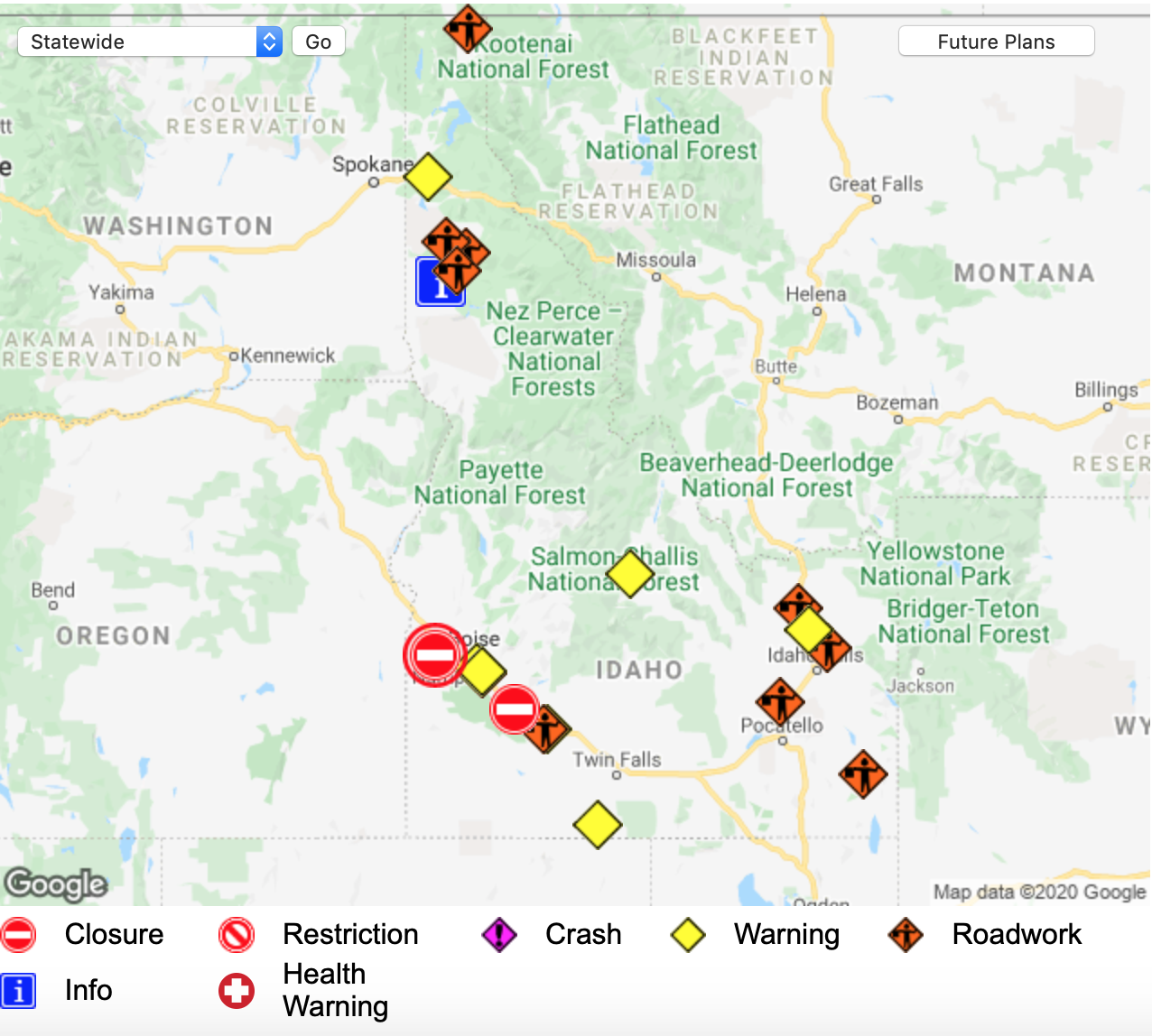 ---
A Guide to Backcountry Skiing
Sun Valley is a gateway to endless, powder-filled backcountry terrain with awe-inspiring views. Accessible by helicopters, hut systems, snowmobiles, and by human powered means, enthusiasts will revel in the area's expansive mountain ranges. Here is a short guide to making safe and endless turns across the surrounding bowls, peaks, and glades.
Winter Recreation Parking Map for Galena Summit
Guide to Renting Snow Equipment
Whether you're new to town and didn't bring your own gear or a local just looking to try a new sport, there exist a myriad of rental options in the Wood River Valley for skis, snowboards, Nordic, and snowshoes as well as a host of shops waiting to tune, deliver, and help you learn more about all your gear! Check out our guide below for all your winter rental needs.