For four glorious days here in Sun Valley, the wine flowed like beer, the beautiful women instinctively flocked like the steelhead of Stanley, Idaho and some serious funding to foster future arts and humanities opportunities for the Wood River Valley was raised. The 32nd annual Wine Auction Weekend invited attendees to partake in copious amounts of world renown vino varietals, mouth watering bites from the valley's finest culinary experts, and boot stomping live entertainment. While the long weekend showcased a wide variety of wine induced events, two major spectacles took center stage. Friday night played host to the Wine Auction Gala where, "high spirits, great wine, superb food, good company, and a little friendly competition" melded together for some serious fund raising.
Auction items ranged from wine paired dinners to a private concert featuring Lady Antebellum.
On Saturday, guests scrapped their bidding paddles at the door in exchange for empty wine glasses eager to sample the nights offerings. Vintners from far and wide poured a full spectrum of wines while the top local chefs kept those early evening buzzes in-check with tasty gourmet creations. With palettes amply satisfied, Sister Sparrow and the Dirty Birds took over to round out the sensory experience.
If your John Wayne aim was on and that rope ring found itself around the neck of a bottle, you were certain to walk away handsomely rewarded.
Steamed Idaho Wagu beef meatballs with sesame seeds and a mint, red curry sauce from Dashi, Alaskan halibut ceviche with grilled vegetables and fresh herbs on a potato tostado from Globus, Teton Waters grass fed barbacoa tacos with crispy pico and cilantro cream from Boca, and wood fired pizza with gorgonzola, red grapes, caramelized onions and fresh arugula from Ketchum Grill/Enotecca were amongst the consensual crowd favorites.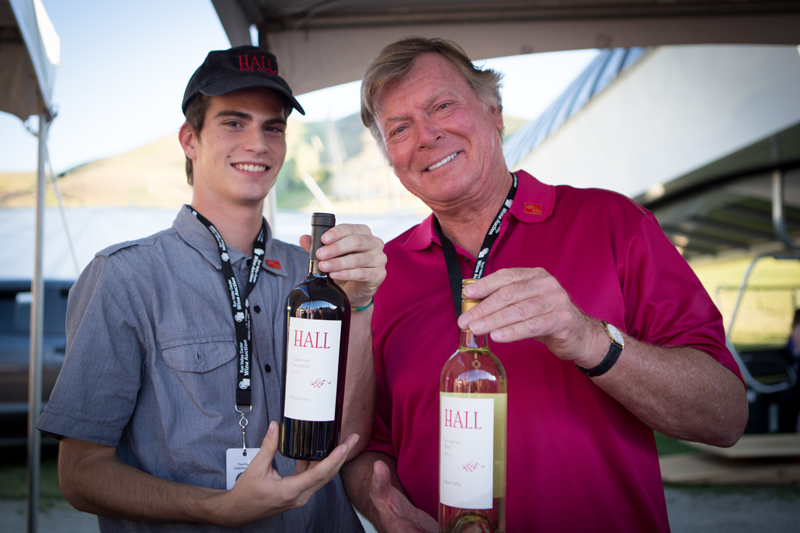 The base of Dollar Mountain created natural amphitheater style seating complete with expansive views of Baldy in the background.
Sister Sparrow and the Dirty Birds ensured that attendees mitigated their risk of food coma with jazzy horns, mindful percussion, soulful harmonica, complimentary chords and authoritative vocals finished with a touch of sass.
All-in-all, money was raised for a great communal cause, bellies were filled, wines were discovered and those Ketch'em Alive dance moves were put to good use. If you missed this year's events, make sure it becomes a priority for 2014. This is definitely not one to be missed. Many thanks go out to the Sun Valley Center for the Arts and all the volunteers for making this happen. Until next year..  
SaveSave