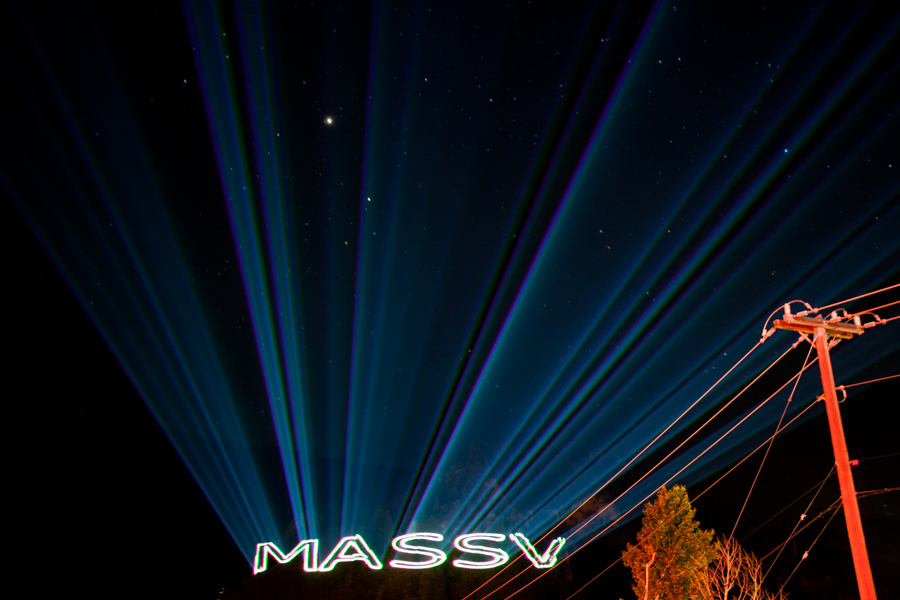 The 4th of July weekend brought an alien invasion of sorts to the Sun Valley area this year with the arrival of the second edition of the MASSV Music Festival. The Music and Arts Showcase Sun Valley's (MASSV) vibe permeated the air from the Trail Creek parking lot filling the town's street with throngs of youth wearing costumes which no doubt turned many a head in our typically conservative little town. As the day turned to evening you could hear the excitement building with the thump of bass which gave way to night.
As the modern movement of internet born music stars and artists bubbles to the top of pop culture, MASSV arrived to offer a venue for this expression and captivate an audience with a sensory rich display of what creativity and technology can produce. Featuring a line up heavy with electronic dance music (EDM) augmented by laser light shows, performance art, and installations the likes of which were reminiscent of Burning Man, this festival stood out as one of the youngest and most exciting things to happen in Sun Valley in years. A new generation is beginning to take hold, evidenced by the support and enthusiasm for MASSV. With over 3,000 festival goers over two days this event was a huge hit and enlivened an already robust arts and culture community with a little something from the coming era of Sun Valley.
Sun Valley is not afraid of dressing up. Give us a reason to reach deep in the closet and consider it done. Which was exactly what MASSV encapsulated yet in a more artistic manner than our typical golf tournament or end of the year party. It was as though a lost tribe had descended on the Wood River Valley. MASSV let it all hang out and handed out that ticket to freakshow freedom that we all secretly crave and let loose with the kind of care and passion that gives an event staying power. Standing at the entrance to the venue ,the breeze blew in throngs of teenagers and older, many dressed in a spectrum of costumes which spanned Mad Max, Mardi Gras, and all points in between. The dusty lot became eclipsed in a halo of setting sun rays, and as light drew down the crowd filed in, the energy building throughout the night.
Hosted by Jurassic 5 front man and hip hop legend, Chali 2Na, was almost enough to hook me in, but MASSV put together a grip of the most cutting edge and frontline acts in the EDM movement with Krewella, MiMOSA, Gramatik, and G-Eazy headlining the weekend's festivities.
As if your ears were not enough to load up with stimuli, the sky was blasted by more laser beams than a Star Wars Trilogy and fans' cheers deafened the grounds as a laser etch-a -sketch man began dancing up the side of Bald Mountain. A dancing dragon bounced over the audience and fire twirlers battled with trapeze artists for the limelight as the beats of lap-top produced music, most of which can be downloaded for free over the internet, pumped bass through your body like a digital defibrillator.
When the lights finally went out you could sense the audience begging for more, having passed through that magical hour which keeps people up all night. MASSV was a spectacle to behold. In true small town form, this growing event was the brain child of a Boise couple and a local ER doc who joined forces two years ago to do something for the youth. With the passing of the couple in a tragic automobile accident, Dr. Brent Russell and local supporters came through and saw this vision to the end. We hope it never does actually end.
Photos: Mark Oliver Video: Mark Oliver and Max Monahan