Cassie Abel is the CEO and co-founder of Wild Rye, a company dedicated to creating mountain apparel for women of all sizes, ages, and skill levels—an area she saw was decidedly lacking after spending years working in the outdoor apparel industry. Though Abel didn't found the Ketchum-based company until 2015, she has been living here fulltime for about 10 years and spent much of her life in and out of the Valley; she's held down jobs at local favorites like Java, the Cellar Pub, and Smith. As the kind of woman her brand targets—mountain biker, skier, busy mom—Cassie is the perfect mountain lady to tell us how to spend an ideal day in Ketchum, Idaho.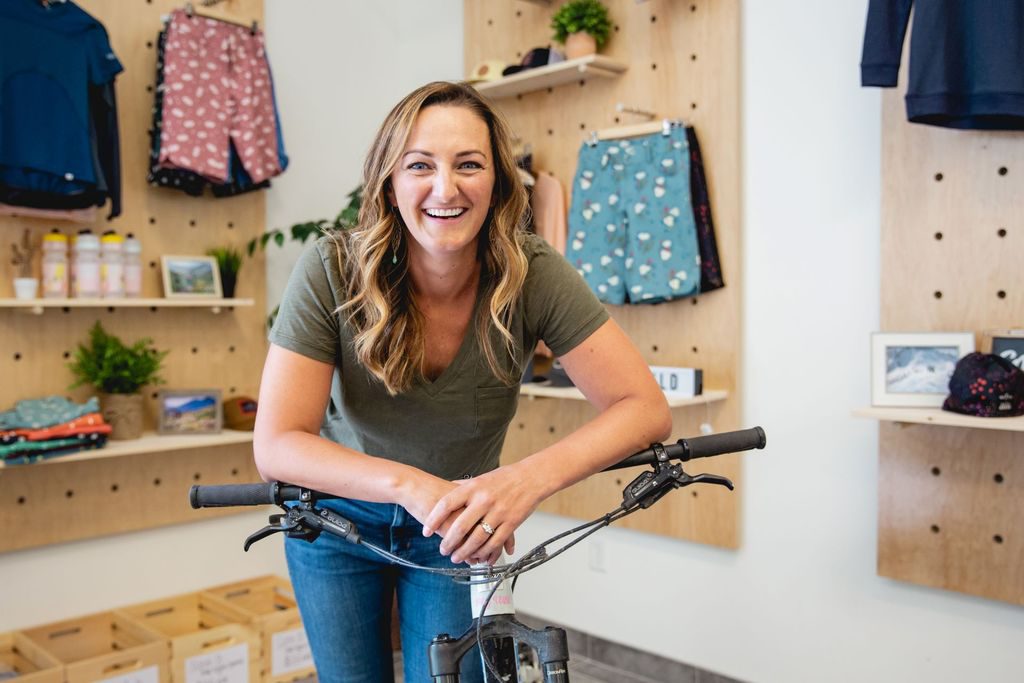 How do you start your ideal day?
Can I give you two ideal days? Cause one's going to involve my toddler, and one will not! So if I don't have my toddler, I wake up and drink some coffee on my porch. If I'm heading out for coffee, go to Lizzie's or Maude's and get a really delicious latte. Then I'd go for a big bike ride like Osberg's, Alden, or Greenhorn/Imperial.
How do you refuel after a long bike ride like that?
Probably grab a beer and a snack at Grumpy's. From there, go get a massage at Zenergy.
Where are you heading come dinner time?
I would probably go out with either my husband or some girlfriends to Cookbook or The Covey and sit outside if it's nice weather. Then maybe go grab a cocktail at The Duchin Room or on the Warfield deck after dinner. Then go home and go to bed! Hopefully not end up at the Casino, but stranger things have happened, especially if I don't have my toddler!
And how does your ideal day start if you have your one-and-a-half-year-old, Sawyer, in tow?
We wake up and have breakfast and take our dog Kirby for a walk and Sawyer is partially riding in the stroller, partially cruising the neighborhood, inspecting all the things, saying hi to all the neighbors.
What kind of activity would you two go do together then?
We would probably hope on our e-bike or do the Thule trailer/cruiser bike and go for a bike ride around town, maybe go play at Atkinson's Park. He goes down for a nap around 11:30, so while he naps I enjoy some time to myself in the yard in my hammock reading a book.
And after he's up?
After he wakes up from his nap, we'd go play in the pool at Zenergy or go down to the river and throw sticks for Kirby. Maybe we'd go for a family walk around the dog park.
Where do you go for a family-friendly dinner?
He doesn't sit still at restaurants very well. He can sometimes hang out at the Lefty's deck for a minute, maybe La Cab—something super casual. Maybe we get takeout and go sit at the park or in our backyard. Bedtime's around 7 so then my husband and I are having a cocktail in our yard or watching a movie and are homebound!