Visitors to the Sun Valley area may be surprised to find that the majority of restaurants in the area close at or around 9 o'clock. A long day of playing tends to induce a ravenous late afternoon to early evening appetite around here. And, while there's many activities that abound in Sun Valley year-round—concerts, fundraisers, art shows—many of those events end relatively early giving restaurants little need or demand to stay open late. This is a place that fuels up early and runs on stamina to get through the night.
The service industry is still recovering and with that comes staffing challenges. Because of this businesses are closing earlier than normal and are irregular with hours due to who shows up. So please remember to be patient and understanding that in this small town food is rarity once the sun sets. It is best to call ahead wherever you go but the most consistent and convenient option is the food trucks on Main Street.
Food Trucks
For those hungry after the bars, food trucks are often the only option. The lot next to Whiskey Jacques is referred to as "The Pod" and houses a variety of choices, although not all technically "trucks" these mobile food units will surprise you with their capabilities. Late night options in The Pod include:
Idaho is known for it's taters and this is the perfect spot to sample this fine fair! Open Tuesday – Thursday from 7pm – 11pm and Friday & Saturday from 7pm – 2am. The only option at the POD that accepts Credit Cards.
You guessed it, delicious wood fired pizzas! Open until 11pm Tuesday-Saturday
The classic taco truck with empenadas that are to die for. Open most weekends late night.
Casual Fare
The quickest and easiest bites to grab late-night are the more casual: pizzas, burgers, tacos.
If you're hankering for burgers, Lefty's Bar & Grill serves up burgers and beers as well until 10pm every day with a fun pool table, TVs for watching sports events and a great deck with sunshine and, often, live music.
Those heading out for a night on the town will most likely end up at The Cellar Pub at some point. One of Ketchum's mainstay bars, it is also a restaurant serving classed-up pub fare like fish and chips, bangers and mash, and burgers. They only serve food until 9:30pm but get yourself a seat now and hang out for a few hours after your food to observe some locals getting their weekend on.
**Pro Tip: call these establishments ahead of time to confirm if they are still serving. Many of these places may close early if business is slow.**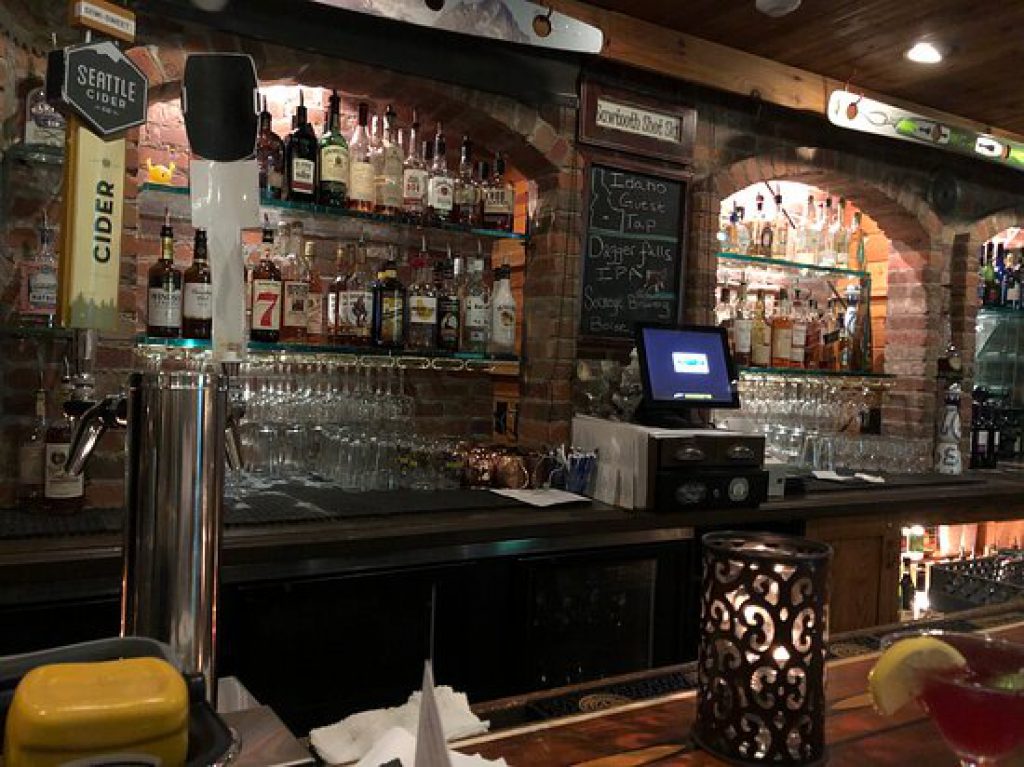 Restaurant Dining
Several more legitimate restaurants in town stay open past 9pm.
Asian fusion eatery Rickshaw serves up small dishes for sharing and is open until 10:30pm Tuesday through Saturday. Enjoy outdoor dining in the summer and their ping-pong table while you wait.
Classic Idaho grub is available until 10:30 on Fridays and Saturdays at the Sawtooth Club. Whether its lamb or trout you seek their appetizers will prime you for a delicious evening of some late night eats.
Warfield, located on the corner of Main Street and Sun Valley Road, is known for their great upstairs deck with fire pit, it's own bar and a view of town. The restaurant is open "later" but doesn't have a set time so worth a call. Grab a cocktail with one of their hand-distilled liquors or a bite from their menu of modern American cuisine.
Groceries
If you're in the mood for a quick bite or just picking up something to make it open, Village Market is open until 10pm and has everything you might need in a grocery store.
Veltex is also a mini-mart on main street and is open pretty late some nights and is the last ditch effort for calories that most locals resort to in the late night food scramble. The pizza pockets make for a fine pairing with a donut or pint of ice cream!
**Remember that hours of operation are subject to change and we highly recommend calling ahead to confirm details.**