photo above: Jeff Caven
Imagine yourself enjoying a savory cup of hot cocoa under the stars after an evening of night skiing on Sun Valley's Dollar Mountain, or strolling the snow-covered streets of Ketchum and Sun Valley, underneath the twinkle of holiday lights, as the sound of carolers filters through the air. The holidays in Sun Valley are magical, and these are just a few of the festive moments that await this holiday season. Don't know where to start? We've compiled your 2022 guide of must-see events and happenings from Christmas festivities to rock-the-house New Year's shenanigans!
photo: Sun Valley Resort
Pull on your winter boots and down coat for the Ketchum Tree Lighting Ceremony in Town Square. Santa will be on hand for pictures and to spread the holiday cheer, and hot chocolate, cookies, and candy canes will be served. The festivities kick off at 4:30pm.
Join with family, friends and neighbors to flip the switch and start the holiday season. Caritas Chorale will sing carols while vendors & craftspeople sell their wares. Santa will be present and refreshments will be served. Free. Join the Chamber at the Hailey Town Square from 4pm to 7pm to see the Hailey holiday tree aglow for the first time this winter.
The Papoose Club Christmas Bazaar is family-friendly event that celebrates the season of giving with gift items available for purchase. Pick up that perfect locally-made organic soap for your grandmother, or a leather-wrapped mason jar for your brother. Fresh baked cookies and a hot soup café will keep you full of energy as you shop.
Join us for sipping, shopping, s'mores, and some family-friendly festive fun!
Thursday December 8th 3:00 – 7:30pm at Wild Rye Headquarters.
Visit the Argyros for the world premiere stage production reading of The Randimals, based on the Randimals Children's book. The Randimals Christmas Story Extravagnza is the perfect après ski event for kids and big kids alike. The show is freebut tickets are required by reserving online or contacting the Argyros Box Office 208.726.7872
Sun Valley Resort is thrilled to bring back their Open Air Holiday Market for the 6th season! The holiday market will be a European style outdoor market offering unique and local items – the perfect opportunity to shop for those last minute holiday gifts! The market will feature vendors offering handcrafted jewelry, pottery, wreaths and dried floral arrangements, homemade baked goods and treats, skincare and more!
Festivities begin at 5:30pm in Sun Valley Village for the Sun Valley Tree Lighting Ceremony.
Can't get enough of classic holiday music? The Wood River Orchestra will be performing orchestral and ensemble arrangements of holiday music at The Church of the Bigwood starting at 4pm. The concert is free and family-friendly.
Family friendly Christmas concert in the Opera House is back this year with singing, dancing, and storytelling. Tickets can be purchased at the Guest Center. $25 general admission, doors open at 6:30pm and show begins at 7:00pm.
Enjoy a classic Sun Valley brunch with Santa this year! Join him at the Sun Valley Clubhouse 9am- 2pm and get your Christmas wishes to the man in red!
The Sun Valley ice shows are a sight to behold any time of the year, but the Christmas Eve show is one spectacle that brings a smile and a warm heart to everyone who attends. This is truly a time honored family tradition that lets us all know that Christmas is here.
Fireworks and a light show of skiers wielding torches down Dollar Mountain is the last thing children for generations have seen before crawling into bed to wait for Santa to arrive in the night.
Hit the slopes to and enjoy some night turns, music under the stars and fireworks at 9:00pm sharp. (Season Passes do not work for this event, it is a ticketed event)
\
photos: Sara Sheehy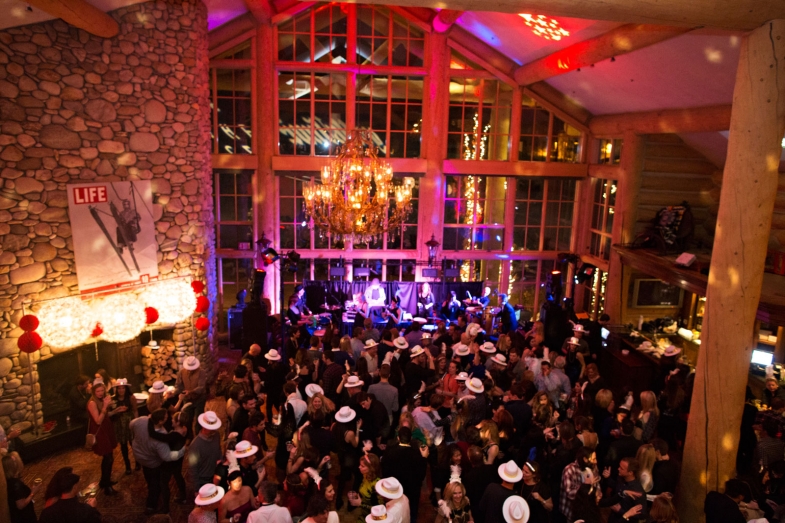 Music
For the musically inclined, there's a great line-up of shows happening throughout the holidays.
For event more events, check out our EVENTS CALENDAR
Deals
Even though we're moving in to the peak winter season, there are still some great deals to be had. Check out deals and specials page for the latest offerings.
Share the Sun Valley holiday spirit by tagging your photos with #HolidaysinSV