Local singer/songwriter Travis McDaniel can be found playing weekly gigs at the Duchin Lounge and bi-weekly gigs at the Limelight, playing a mix of jazz, bossa nova, funk, and neo-soul on his guitar, accompanied by his vocal jazz crooning. The Boise native moved to Philadelphia for about five years before moving to Ketchum in 2016 to live somewhere he could play his music while also doing the skiing, fishing, and mountain biking he grew up doing and loves. He and his wife, Makenzie (a Sun Valley native who he met in Boise after high school) opened local juicery Gingersweet in 2019. The two have a 20-month-old boy, Huxley, and an Australian Shepherd, Bowie. Travis McDaniel has been playing guitar since he was 5, singing since he was 11, and performing since he was 14. "I knew that's what I wanted to do the rest of my life," he says of being a musician.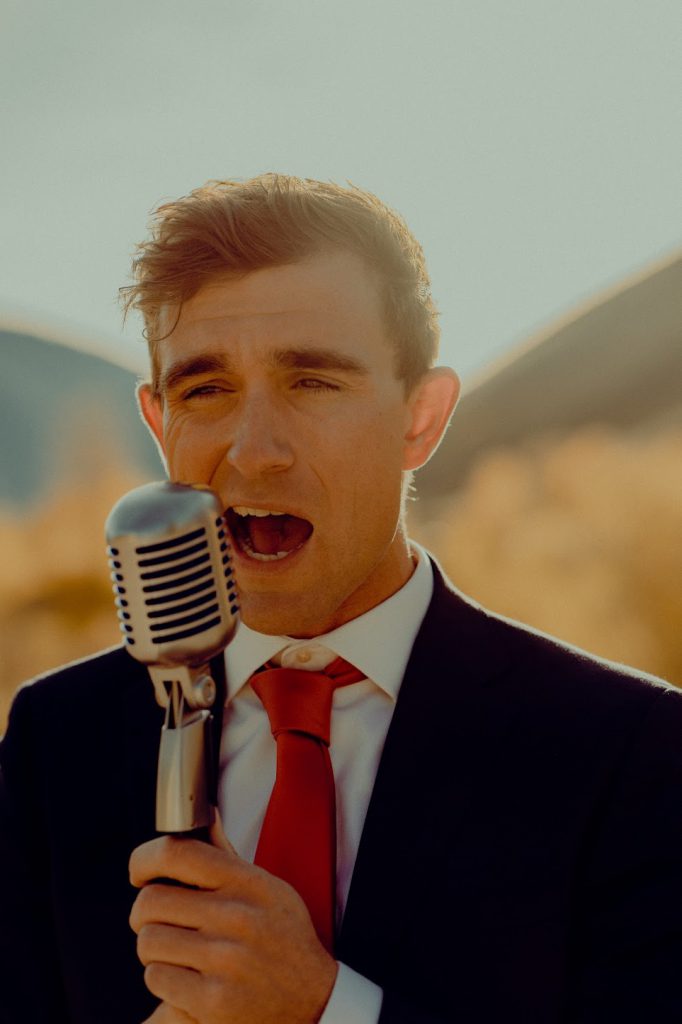 How does your ideal morning start?
Travis: I try to get coffee in my system before my son wakes up. I like a slow, quiet entrance into my day. That doesn't happen too often; my son seems to get up earlier than most of the world. If I get a moment, I like to sit down and look at jazz charts or study an EMS topic; in the past two years I've been involved with the Ketchum Fire Dept as a volunteer firefighter. Then I'm off to the juice bar, Gingersweet, to help press juice and get the day started there. For breakfast in my fast-paced life, I'm definitely getting a smoothie from the juice bar as I'm starting my day—my favorite morning smoothie, it changes all the time, but with the cold weather I like the Mountain Shake Smoothie, it's kind of a green-chocolate-peppermint smoothie.
What does mid-morning look like?
Travis: I would probably go fishing. This time of year, I like mid-valley fishing where it's a little more open and I can be in the sunshine to stay warmer. I like heading down to Zinc Spur or Flying Heart.
What do you like to do for lunch?
Travis: Now that my son's in school at Bigwood, I pick him up and we like to go to the Sawtooth Brewery for tater tots; I really like their elk burger. Then we head home for a nap and I either sit with my guitar or do more studying or look at maps for backcountry skiing goals.
What does your family like to do for dinner?
Travis: When I have the night off, we definitely try to either cook or go out as a family. This time of year is a bit slower for me, music-wise, but this summer I missed a lot of family dinners because of playing gigs. And I would eat food from the gig, either the banquet or from the Duchin or Limelight. But when I have the night off, there's one place I love to go to or order takeout from with my family and that's Rickshaw. I like the KFC Chicken, without fail, and the udon noodles.
And do you do anything after dinner?
Travis: It's usually a dog walk for me as my wife puts Huxley to bed. Then my time is split between studying, looking at jazz charts, or just completely turning off and watching The Simpsons.
cover photo credit: Halsey Pierce