In the lineup of businesses and companies started on the hallowed grounds of the Wood River Valley, First Lite used to be considered the new guy. Now in its 15th year of business since its founding in 2007, that's hardly the case, and since its acquisition by media company MeatEater in 2018, First Lite has only continued to reach a bigger audience and market. First Lite, at its core, is a clothing company, creating merino wool garments in camouflage print for hunting. But with its focus on conservation efforts, a new flagship store, and the continuous growth provided by parent company MeatEater's audience, First Lite has become a game-changer in the outdoor industry.
How It Started
First Lite started in the early 2000s as so many great ideas start—because of a need for something that doesn't exist. Founders Kenton Carruth and Scott Robinson had both moved to Ketchum in the mid '90s and worked in the winter sports industry. The two enjoyed the outdoors, particularly hunting, but found that there were limited options to wear while hunting that would keep them warm in the chilly fall Idaho mornings. After wearing merino wool while hunting, which they discovered was an ideal fabric for changing temperatures and for remaining odor-free, they started experimenting with printing camouflage on merino. The result was First Lite, a clothing company that makes hunting-specific gear on merino wool that breathes and offers protection from the elements.
In 2018, MeatEater, a media company known for its TV shows, podcasts, recipes, and other aspects of hunting like conservation, acquired First Lite and became its parent company. The acquisition was a natural integration as the two companies had been working together since day one of First Lite. The face of MeatEater, Steve Rinella, was already a major proponent of First Lite gear, acting as a pseudo brand ambassador and getting the brand on other people's radar.
Conservation
Conservation has always been a pillar of First Lite, as well as its parent company MeatEater. While before the acquisition, First Lite's conservation efforts were mostly limited to local and grassroots organizations, with MeatEater's large audience and reach, conservation efforts have been able to expand greatly. As First Lite likes to say, they are hunters first and business people second. To be able to continue hunting and supporting other hunters like themselves depends on conserving the world's wildlife resources and protecting collective access to the wild places they inhabit. First Lite has several conservation initiatives, starting with their work-on-the-ground program Brush for Bucks. Each fall, the company purchases thousands of sage and bitter brush seedlings to be planted by its employees on a degraded range in the Wood River Valley to help support game populations by planting on slopes that have been ravaged by wildfire and are prime feeding areas for game.
In terms of funding conservation, First Lite does so in a few ways. The first is their Round Up for Conservation initiative, founded in 2015. This program allows customers to add a dollar or more to their purchase to benefit one of their Partners in Conservation. They also do online gear giveaways to raise money and match donations to their Partners in Conservation annually on National Public Lands Day. First Lite also donates and discounts gear to local conservation groups, chapters, branches, and clubs. Their Common Wild Initiative is a newer means of promoting conservation by creating a coalition of outdoor companies who sell a collection of limited-release Common Wild branded gear with 100% of the profits donated to a conservation group of their choice.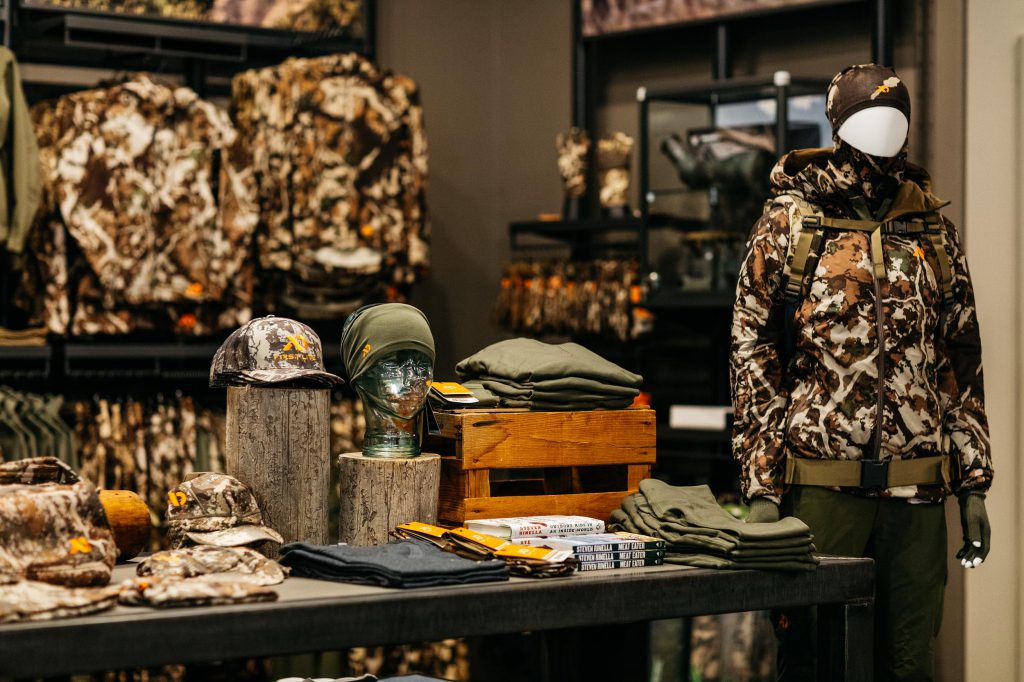 Flagship Store
Previously only an online shop, First Lite opened their flagship brick-and-mortar store in Hailey in August 2022, a move that coincided with First Lite headquarters also moving from Ketchum to Hailey due to a lack of space (since the MeatEater acquisition, Sun Valley-based employees have doubled). The store offers all clothing available on the website—headware, baselayers, gloves, rainwear, vests, pants and shorts, jackets, belts and suspenders, footwear and socks, and women's gear—but with the added bonus of being the only spot you can physically try First Lite gear on. In addition to clothing, the store has good like coolers, cookbooks, and BBQ sauce which are in alignment with one of MeatEater's four pillars: culinary (in addition to hunting, fishing, and conservation). The success of this flagship store has opened up talks to the potential for expansion.