Spring in a mountain ski town frequently goes unsung and frequently nearly unnoticed. It's not uncommon for skiers to forget that the best skiing is right up to even after the mountain closes, as dreams of sunny beaches or rolling vineyards in lands far off frequently enchant those who wish spring would just do her thing and get on with it. But spring is awesome and a time when renewed energy for stretching the legs and the mind in new directions spawns a whole new level of creativity. So check out these fun, educational, artistic, or even downright goofy things you don't want to miss out on in Sun Valley this spring!
1. The End of the Season Party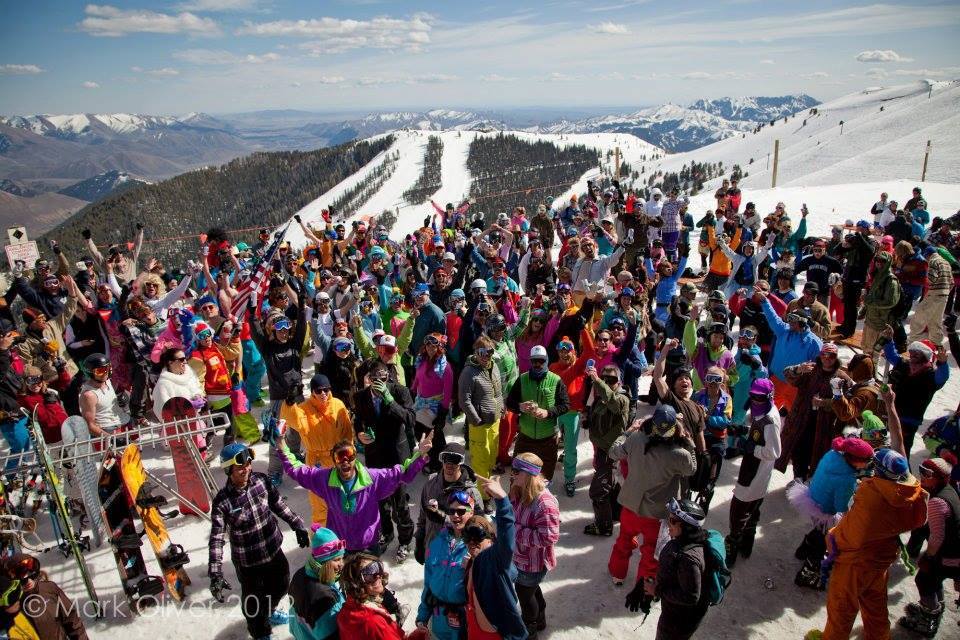 It's a bit sad when the season ends, but Sun Valley rally's like no one else to close out a great year of spending days one end with good friends. Just don't leave the top of the mountain too soon…(photo: Mark Oliver)
The season ender is always one of the highlights/low points of being a skier/snowboarder. You're sad because it's over but somehow that makes you even more fired up to get after it and celebrate it properly. And Sun Valley does it right. Tailgate BBQ's, costumes, and general all around goofiness and revelry own the weekend. If you didn't know better you'd think you'd clicked into your bindings at an insane asylum. Also not to miss (is this #1.5?): This year we also have a special guest, the Western Region USSA Spring Series (April 1-6) which brings some of the best racers in the US to town for one last shot at glory. Events include Super G, GS, and Slalom. No doubt this will add to the fun this year.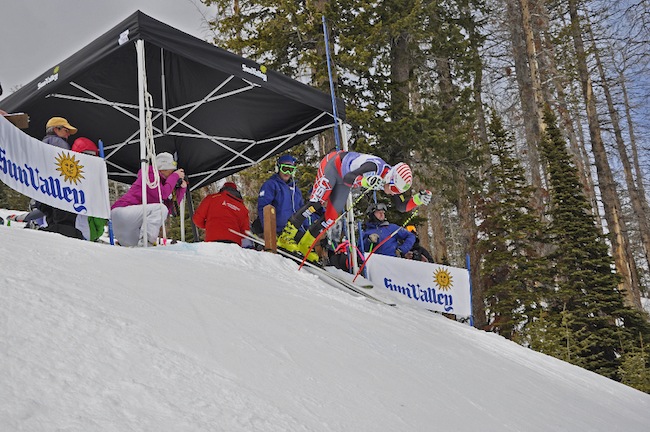 The Spring Series will add to the color and flair of closing weekend this season. (photo: Nick Maricich)
2. Yee Old Easter Egg Hunt
We love our seasons and nothing is more fun than watching a bunch of kids scramble around looking for piles of Easter Eggs hidden in every nook and cranny. With all of the sugar they can handle coursing through their veins, you just don't want to try and take them home for a nap too soon. Galena Lodge and Sun Valley Resort each have their own Easter Egg hunts (April 4 and 5th respectively) with brunch and other traditions waiting for those looking to get out and enjoy the spring weather.
3. The First Hike/Bike of the Year
From one sport to the next, springtime is an ideal time to get out and start enjoying the trails which have dried out. (photo: Tal Roberts)
One of the benefits of being located near the southern desert of Idaho is that Sun Valley can often have multiple seasons going on at once. By spring, the south facing hillsides have melted out and the trails are drying rapidly. That first sunny afternoon on the bike or hiking one of the many south facing trails to the top of a nearby hillside or peak is the perfect follow up to a morning of skiing. Once the mountain closes, it's full speed ahead just make sure that the trails you are hiking/biking on are dried out and free of mud. Keep the singletrack single! You can also take advantage of a lot of great gear sales in town as well as look for a new used bike at the Annual Bike Swap at Sturto's in Hailey.
4. The Ketchum Wide Open (the Greatest Golf Tourney on Earth)
The high stakes super putt putt of the Ketchum Wide Open tests the skill and patience of golfers on one of the wildest mini-golf courses anywhere. (photo: Mark Oliver)
The Ketchum Wide Open is the Sun Valley community's answer to the spring doldrums. It's probably one of the funnest and funniest mini-golf tournaments anywhere. Teams of four vie for the glory in an all out, no holds barred tournament which features creative holes constructed by local restaurants and bars as well as a flight of great costumes. It's worth traveling to town to partake in this tradition. Be prepared to make new friends and have a heck of a good time.
6. A Dose of Mind, Body, Spirit at the Sun Valley Wellness Fest
After a long winter of perhaps too much stew and stout, too little yoga and the strong to very strong possibility of a holiday hangover which just won't go away, the Sun Valley Wellness Festival is a breath of fresh Ommm that just about all of us can use. A line up stocked with a variety of innovative thinkers, practitioners and specialists in all capacities of improving the human condition descend on Sun Valley for a long weekend of sharing and learning. It's like a cleanse for the entire being and comes at the time of year when we all could use a little healing.
7. The Bug Zoo at the Sawtooth Botanical Gardens
The coolest thing about spring might just be all of the creepy crawlies that return to our lives after a long winter. Before you say, "Ew, yuck!" bring the family out to the Sawtooth Botanical Gardens for the Bug Zoo, an amazing journey into the world of some of the littlest, yet most important organisms around us. A collection of over 35 bugs from all over the ecosystem map visit us and offer a chance to learn more about the role they play in our lives. Who knows you might even get to babysit a walking stick or get a kiss from a massive monarch butterfly.
8. The First Day of Fishing Season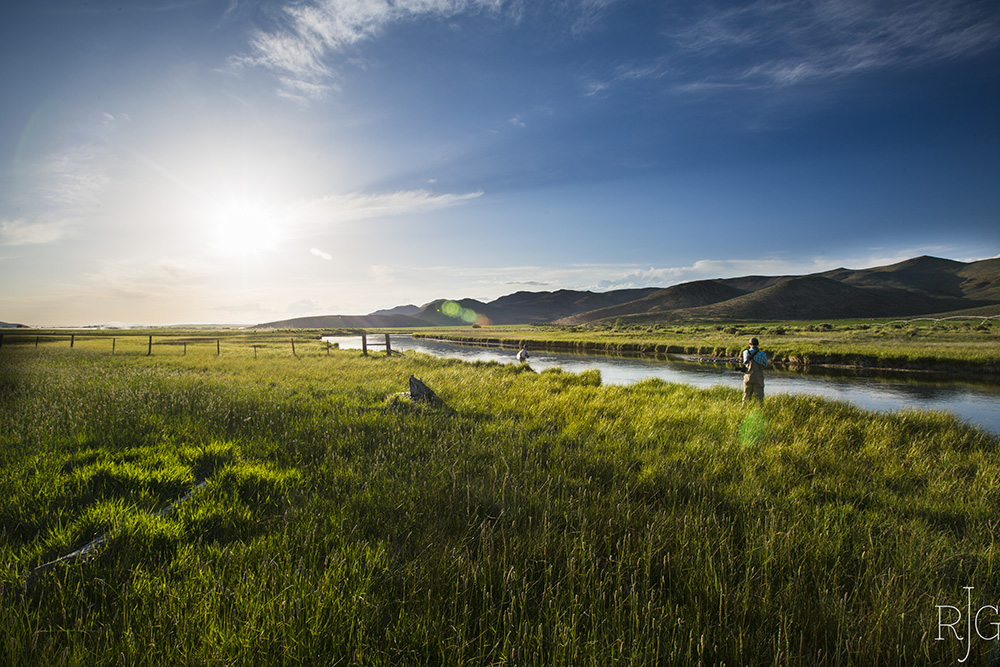 Silver Creek Preserve and the waters surrounding and flowing through the Wood River Valley aka Sun Valley open after a two month rest for spawning season. The fishing can be marginal depending on the weather and conditions but getting opening day is always awesome. (photo: Ray Gadd)
Sun Valley is fly fishing country bar none. With the Silver Creek Preserve and spring creek complex to the south, the Big Wood River and Warm Springs Creeks flowing right through town, and the Big Lost River right over Trail Creek Pass, you can head to all four directions of the compass rose and put some steel to an Idaho trout. The rivers for the most part close at the end of March out of respect for the ichthy-intimacy season (aka the spawn) so we let our little friends have their privacy for a few months. After the respite, the season reopens and good friends and long lost relatives come out of the cracks to begin the cycle again. It's a glorious time, and of course the fishing can be iffy. But who cares? It would be called "catching" if that was all it was about.