IT MAY BE TEMPTING to pigeonhole Sun Valley as a winter destination (it's home to one of the top ski resorts in North America, after all). But the options for adventure and fun only increase in proportion to the daily hours of sunlight — meaning that summer in Sun Valley is pretty hard to beat. Here are 19 truths that prove why.
1. Two wheels are better than four.
Whether you're riding a beach cruiser around town on the local bike paths, charging over Galena Summit in a peloton, or exploring the backcountry on your mountain bike — Sun Valley and bikes go together like strong coffee and sunrises. And if you ever need to shuttle your bike to the trailhead, there's the free, bike-rack-equipped local bus service, Mountain Rides.
2. The Milky Way is a lot bigger than a candy bar.
Stargazing in Sun Valley will take your breath away. The ultra-clear sky, lack of light pollution, and high elevation combine to turn the night sky into a sparkling kaleidoscope where the Milky Way is often visible and even familiar constellations can become difficult to pick out among all the stars.
3. The dress code is always optional.
There aren't many places where you can go straight from a day's fly fishing at Silver Creek to an evening at the symphonywithout having to change your clothes. But in Sun Valley, the attitude is always "come as you are." And if you just so happen to show up at Whiskey Jacques in a tuxedo after your best friend's wedding, you'll still fit right in. Anything goes as long as you wear it with a smile.
4. History lives here.
From its early days as a mining town, to becoming the grand dame of American ski resorts and an all-ages mountain playground, Sun Valley is stuffed full of history. Hemingway's grave is here, as is the house where he spent his final days (it remains unchanged since 1961), and the Sun Valley Lodge room where he wrote For Whom the Bell Tolls. Old mining claims and ghost towns dot the nearby canyons, and one of the world's first chairlifts is preserved and on display in front of local establishments. Ketchum hosts the largest non-motorized parade in the country every Labor Day, and if watching the four lanes of Main Street fill up with sheep every October doesn't feel like a blast from the past, nothing will.
5. Life is spontaneous.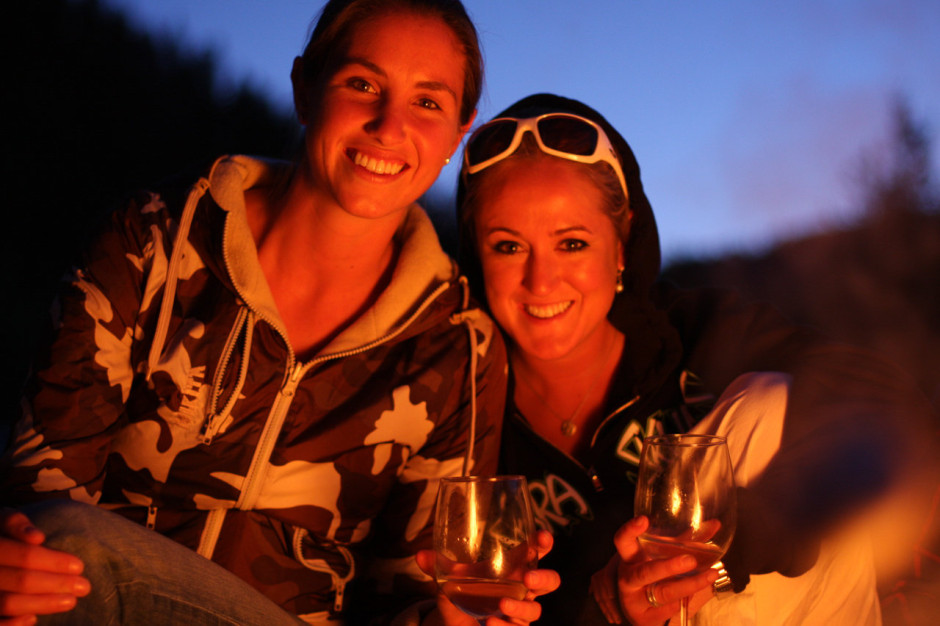 Photo: Cody Doucette
There's no shortage of local watering holes and events to help you celebrate summertime in Sun Valley. Everyone who's been here can attest to the fact that the town knows exactly how to party — it certainly isn't unheard of to start out with an innocent sunset cocktail or two and wind up standing outside the Casino at 2am with some brand new friends.
6. A river runs through it.
The Big Wood River is a summertime masterpiece of flowing water. There's an abundance of natural swimming pools and world-class fishing holes just steps away from downtown Ketchum, and its two tributaries — Trail Creek and Warm Springs Creek — make sure you're never far from the water when you're in Sun Valley. Blow up the inner tubes and cool off on a hot summer day, cast for trout during the long dusk, jump off Big Rock after a session at the Ketchum Skatepark, walk along the shady banks searching for moose and deer, fall asleep to the sound of rushing water…it doesn't matter what you do, just make sure you spend a little time every day in, on, or near the river.
7. Singletrack is the new black.
You've heard the rumors, and they're all true. The singletrack in Sun Valley is second to none. Ride it, hike it, run it — you'll fall in love with it and so will your dog. One of the coolest things about Sun Valley in the summertime is how accessible the trails are. You can walk or ride out your back door no matter where you are in the valley, and within five minutes be on a stretch of singletrack winding through wildflowers, pine forests, and sunny hillsides without a human-built structure in sight.
8. Bullwinkle and Bambi are alive and well in Sun Valley.
To say that wildlife is plentiful in Sun Valley would be an understatement. From the local moose families that hang out near the rivers and marshlands to the herds of deer, antelope, wolves, elk, bighorn sheep, and mountain goats that occupy the valleys and peaks, wildlife surrounds Sun Valley in abundance. Bears and mountain lions keep locals on their toes all year long and necessitate some basic precautions in the backcountry, proving that Sun Valley is anything but tame.
9. Blue sky and sunshine are good for the soul.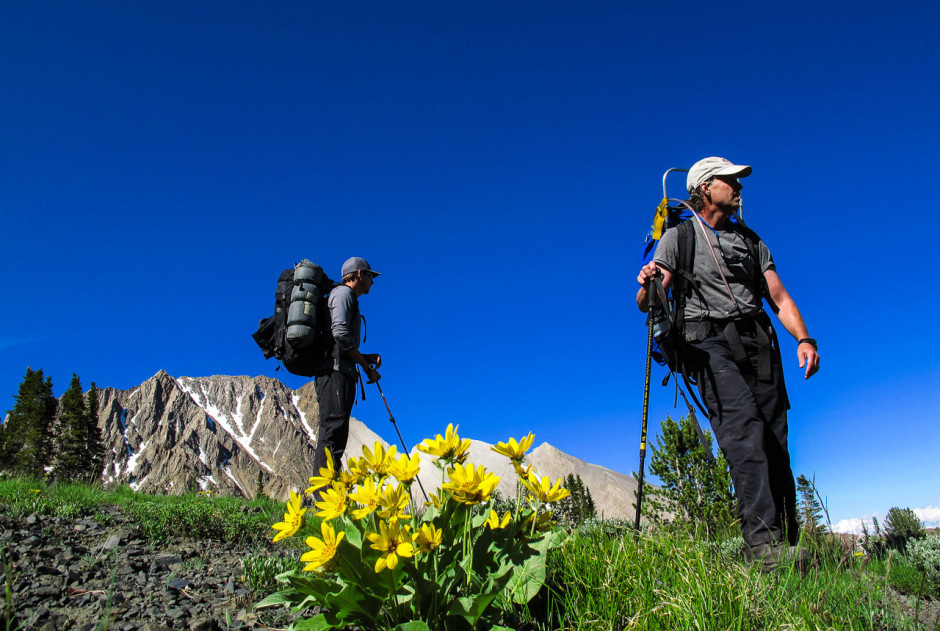 Photo: Cody Doucette
There's a certain shade of blue, so deep it can almost look purple, that the Idaho sky turns on a clear sunny day. Named Sun Valley for a reason, sunny days are the norm here all summer. That, coupled with the extraordinarily long daylight hours, means there's plenty of vitamin D to go around.
10. Inspiration is served daily.
Sun Valley will inspire you. That could be the inspiration to try something new like whitewater kayaking, nuking down mountains on your downhill bike, or paragliding off the top of Baldy. Maybe it's just finding a quiet spot by the river and getting lost in your thoughts, practicing meditation and yoga with top-tier instructors, or exploring the largest roadless area in the Lower 48. Go ahead, be inspired, be free, be wild, be whatever you want to be, just be here now.
11. Small town. Big life.
There's a magazine founded in Sun Valley called Big Life, and they couldn't be more spot on. Sun Valley is a small town, but life here is BIG. From sophisticated restaurants to the thriving theater scene, big-name concerts, free symphonies, and music in local parks, it's all going on here.
12. Smile. Pass it on.
People in Sun Valley are happy. They just are. Fresh air, physical activity, intellectual stimulation, small-town living, healthy food, and a strong sense of community all contribute to this. So join the party, smile at everyone, and slap a few high fives, because that feeling of being in the right place at the right time is contagious.
13. Surfing below mountain peaks sure is cool.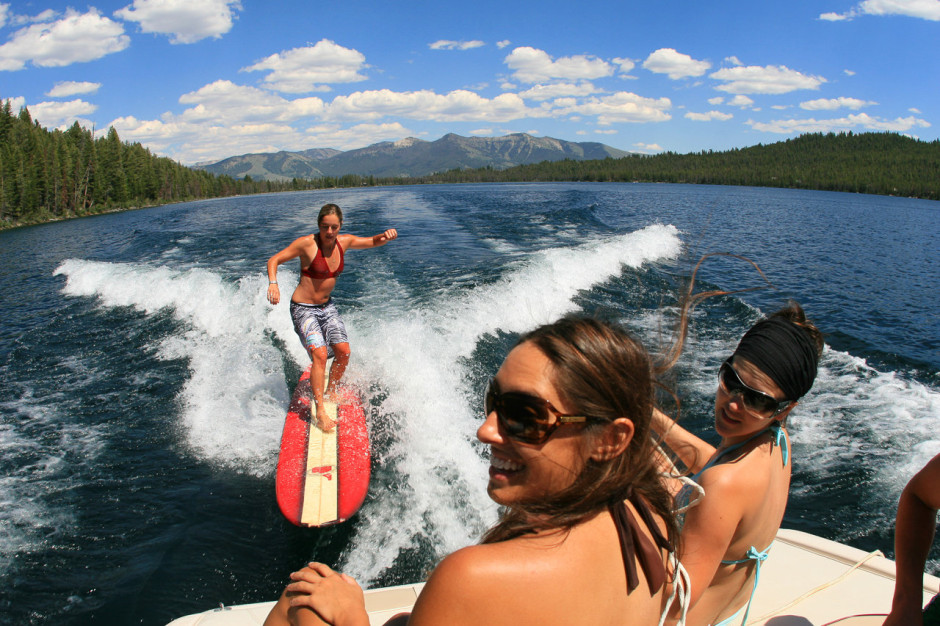 Photo: Cody Doucette
A somewhat new phenomenon on the mountain lakes, rivers, and reservoirs near Sun Valley, surfing on rivers and behind boats has spiked in popularity as of late. Combine that with the SUP boarding craze and it's easy to find some wave-fueled surf stoke despite your distance from the ocean. Practice your shaka and get with the glide, because surfing in Sun Valley beneath the mountains is an amazing way to shred.
14. Dancing barefoot on the grass is the best.
Yes, listening to live music outdoors beneath the stars and surrounded by mountains is wonderful. But being able to kick your shoes off and dance around barefoot in the grass while listening to live music beneath the stars is the best feeling ever. Good thing Sun Valley has such amazing live music venues.
15. It might take some effort to get here, but it's even harder to leave.
Everybody who's traveled to Sun Valley inevitably runs into this hard truth: It's a long ways from anywhere and not as easy to get to as, say, New York or LA. But once you're here, you immediately start hoping your flight out gets canceled so you can stay one more day, one more season…an entire lifetime. Just remember: Nothing good in life comes easy.
16. Memories matter, so make them great.
A summer in Sun Valley is all about moments. Moments you remember forever. Moments that become the memories that become stories you tell your kids and grandkids. The first time you caught a big brown trout at Silver Creek, the epic mountain bike ride that left you bruised, scraped, and exhausted but also giddy with accomplishment. Camping by a mountain lake with no one else around for miles. Surfing beneath the jagged peaks above Redfish Lake. A cold beer shared with friends sitting on tailgates at the trailhead. Meeting your future spouse on the dance floor at Whiskey Jacques. Watching a herd of antelope grazing in a mountain meadow. The list goes on but our time here doesn't, so put a priority on experiences that create memories and let Sun Valley do the rest.
17. The higher you get, the higher you get.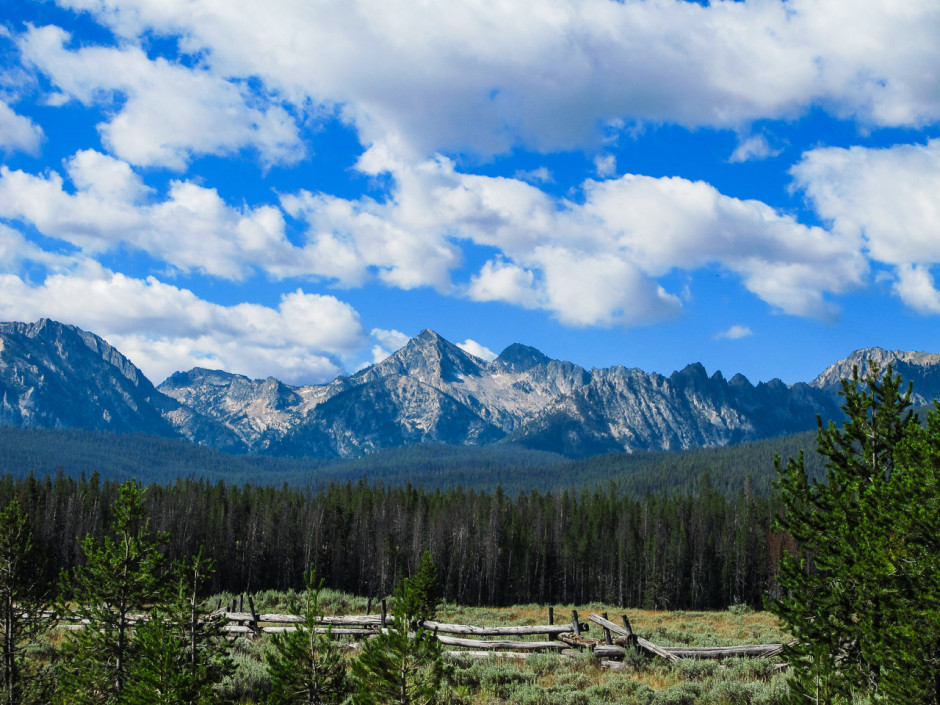 Photo: Cody Doucette
Sure, it's written in big white letters on the roof of Pioneer Cabin — one of Sun Valley's most iconic mountain landmarks and the endpoint of a killer hike — but what it says is more important than where it is. There's an undeniable natural high that spending time in the mountains bestows on us. Maybe it's the size and timelessness of those jagged peaks that help put our problems in perspective. Mountains make us feel small, and at the same time like we're standing on top of the world. It's a buzz unlike any other, and one big reason people have been coming to Sun Valley for decades.
18. Mountain lakes are magical.
You could hike or ride to a different mountain lake in the area around Sun Valley every day of the summer and still not see all of them. It might be how clear and still they are, how much wildlife exists around them, the way they look surrounded by cliffs and rocky peaks, and the reflections of those peaks on the water — there's a sense of awe that these sapphire jewels create.
19. It just doesn't get any better than this.
It's a statement you'll say and feel multiple times every day during summer in Sun Valley. It happens when you find yourself looking around in wonder at the view, tearing down the trail on an evening ride, drinking a beer with good friends after an all-time day on the lake, kicking back on a picnic blanket and listening to a band like Wilco, swimming in the river, and any number of the other million things that stop and make you shake your head and smile during a summer in the valley of sun.

Post from Matador Network Words: Kitt Doucette