Many entrepreneurs launch startups in Ketchum simply because they can work from anywhere and would prefer to do so surrounded by the natural splendor of the Rocky Mountains. And while this is true for companies Nomadic Van and Sync Vans, they have tapped into both a national and local market by creating something perfect for outdoor aficionados like themselves: adventure vans. Luckily, these two companies aren't in competition with each other since they're involved in different sides of "van life": Nomadic Van in the importing of Japanese Mitsubishi Delica vans and Sync Vans in the customization of Sprinter van interiors.
Nomadic Van
Although not officially started until the summer of 2019, Nomadic Van had its beginnings in Ron Arnold's yard, where he would tinker around with the Mitsubishi Delica vans he had started importing from Japan as a side hustle in 2017. He had fallen in love with these durable, adventure-ready vans while traveling in New Zealand, where he also met the friend who would become his exporter in Japan. Ron's friend, Gardner Cord, took an interest in Ron's tinkering and wanted to learn about the vans. While the two worked on vans, they would spitball ideas for entrepreneurial opportunities, such as making storage bins or shot skis. Finally in the summer of 2019, the two got their current space in the Ketchum industrial area and decided to go full-bore with the business.
The Mitsubishi Delicas that Nomadic deals exclusively in are a unique vehicle; few places in the U.S. import these 25-year-old Japanese vehicles or know how to maintain or refurbish them. Nomadic Vans is the only place in the country that works specifically on Delicas. Originally, Ron and Gardner set out to import and refurbish two vehicles a month, back when the vans were selling for about $14,000, which has more than doubled in the last three years. (Currently their vans go for an average of $30,000). When the vans reach the shop, they're often leaking fluids, haven't been touched or started in years, and are sluggish to drive. The Nomad team refurbishes the engine and transmission, makes modifications to make them more powerful, and generally gives them a shine and polish.
In addition to the business of importing and refurbishing the autos, Nomadic has an unexpected revenue stream from people bringing them vans they've purchased and need refurbished. Many importers simply sell the vans as-is, requiring a shop like Nomadic to get the vans in condition to be driven, lived in, and adventured with.
Sync Vans
Much like anyone who has decided to invest in a decked-out adventure van, the founders of Sync Vans found themselves coveting one while outdoor recreating; in this case, co-founder Josh Shelter and his wife had just finished a hot and dusty mountain bike ride and after returning to their car and spotting a van parked next to them, they began to think of all the opportunities for recreation an adventure mobile could provide. Eventually, they build out their own personal van, but Josh wanted more—to create a company that would tap into this market of traveling outdoors people.
Sync co-founder Jay Sfingi was skeptical about committing to a van company. After all, the two had a successful owner's representation/project management company (which they still do). Jay had yet to realize the market for vans like this, but would eventually come to see how selling them has made a difference in the lives of so many: active and adventurous people as well as families who want to travel together.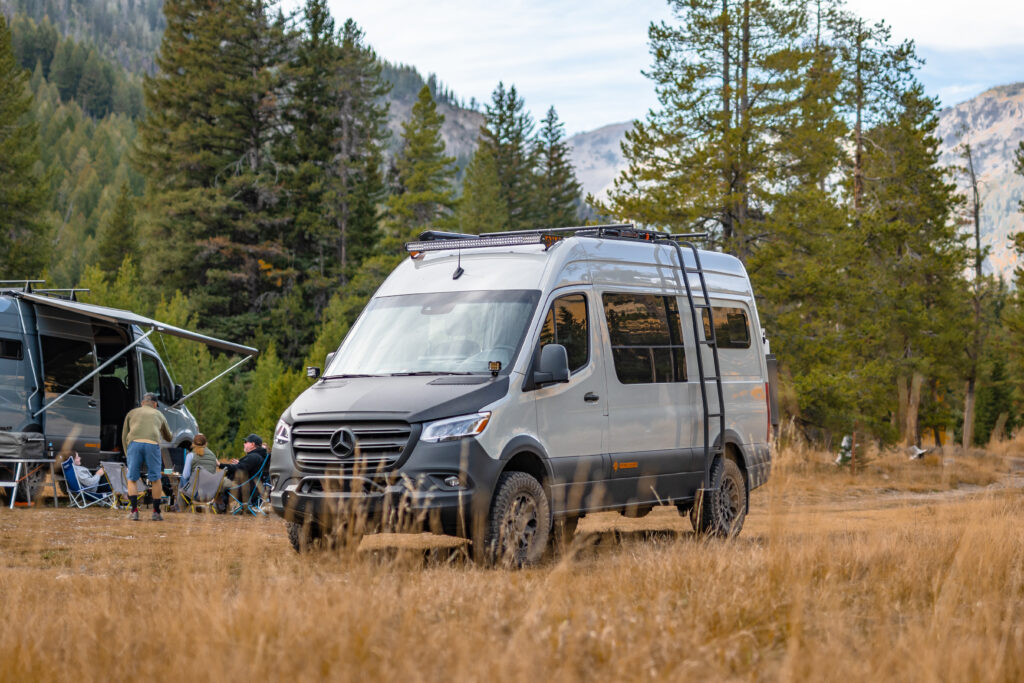 Sync began producing its first vans in 2016, originally out of a Hailey spot near Broadford Road but then in Bellevue after outgrowing their space. The company, who has a third partner now in Chris Campfield, has 19 full-time employees (including the three partners) working on semi-custom camper van conversions. Josh and Jay had originally considered doing full custom vans, but felt it wasn't a sustainable business model and perhaps more importantly, that many people didn't really know what they wanted or what would work functionally in a van. 
They didn't want to build the same kind of vans everyone else at the time and were determined to come up with a new approach. Their business model ultimately became offering semi-custom vans which means starting with a proven configuration specifically targeting different market segments and then working directly with clients to customize their fan form that point onward. Customers can choose fabrics, cabinet finishes, flooring material, upgrades, accessories, and more to create a van that is unique to their needs.