As the annual harvest moon sat poised to rise over the Pioneer Mountains and shine down on the Wood River Valley, foodies from all walks gathered in the Ketchum Town Square eager to taste their way around the town for the fourth annual Harvest Fest Restaurant Walk. Four hundred and fifty fortunate attendees filtered into the square between 4:00 and 5:00 pm where taste buds were promptly greeted with delightful up-and-coming Idaho wine tastings. As guests primed their palettes, strategies and routes for navigating the 20+ restaurants were drawn. With only two hours to sample, a certain level of planning was necessary in order to enjoy this culinary festival the fullest.
Featured restaurants included:
From 4:00 – 5:00 pm, patrons were invited to sample a few of Idaho's up-and-coming wines while they pondered complex decisions such as which stops would have the best food, who had the best atmosphere, where would I most-likely run in to friends, should I try and hit every stop and gorge myself or would it be best to slowly enjoy a small selection from the list…?
Wine tastings and car browsing naturally go hand in hand. Idaho wines sampled by the Idaho Wine Commission and luxury vehicles displayed by Lyle Pearson.
At 5 o'clock sharp, the gates of foodie heaven swung wide open and guests were off on their culinary tour of Ketchum. Participating restaurant offered up their own unique spin on appetizer sized morsels of food capable of pleasing the most refined palettes. Some bites were paired with various beverages while others opted to let the food speak for itself.
Local favorite Cristina's, had fans lined out the door for her delicious creations.
Cristina herself was spotted rushing in and out of the kitchen a constantly evolving number of offerings.
Cristina's antipasti at its finest.
Molecular gastronomy or sheer magic? You be the judge. Either way, making sorbet with liquid nitrogen sure is neat. Nice work Cava Cava.
It's even kid friendly.
Dashi had one of the best wine pairings. A crisp viognier from Cinder Winery out of Idaho complimented the trout flat bread ever so nicely.
The buzz on those pulled chicken sliders from Bigwood Bread circulated through town all evening long.
A perfect fall treat, mushroom bisque from the Ketchum Grill.
Whether you were a local or like this family converging from Twin Falls, ID and Bozeman, MT, we all came for the same reason, to indulge in delicious food.
The Rasberry's gals loving what they do best.
The pumpkin spiced cream puffs were to die for.
Ketchum's latest food truck, The Haven. By far the best and only food truck you can find in town.
Ketchum's local brewery, Sawtooth Brewery, pouring ample amounts of their seasonally appropriate Oktoberfest.
A glass of champagne and some sinful treats from the Sweet Crumb were utterly delightful.
il Naso with their perfect version of the slider.
Vegitarian? No problem. Glow had you covered with veggie crab cakes.
Boca boasted live music, a mussel bouillabaisse and house made sangria.
With quail season opening the next day, these tasty treats were most welcomed. Well done Sawtooth Club.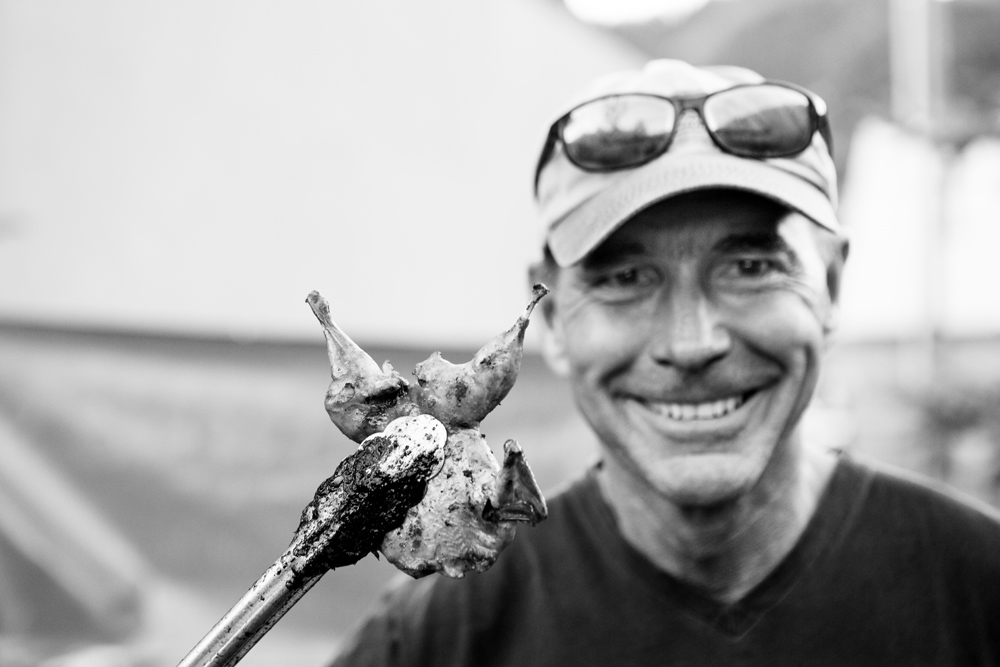 Two hours after it began, some guests had concurred all the 20+ locations while others had only a handful of stops under their belts. No matter your experience, a common bond was shared. Bellies were filled, sprits were bright and another successful Restaurant Walk was coming to a close. As harvest moon began to peak from behind mountains, rumor buzzed that if you were lucky enough to have experienced the restaurant walk, wherever you went for the rest of your life, it would stay with you, for the Sun Valley Harvest Fest is a moveable feast. We look forward to seeing this event come around for a fifth season next year. For a full listing of the weekends events, check out the Sun Valley Harvest Festival website.  
SaveSave