Has your work situation recently changed? Are you now working remotely or have you just left the hustle and bustle? While we hope that getting away from it all is exactly what you do on your next trip to Sun Valley, sometimes other responsibilities beckon. If that happens, we've got you covered. Check out these 8 places to catch up on work so you can get back to enjoying your vacation.
Java on Fourth
Java on Fourth is home to a caffeinated local favorite: the Bowl of Soul mocha. Served in a wide brimmed ceramic bowl, it's a delightful companion to cranking out a little work. Java on Fourth has tables, WiFi, and a cozy atmosphere. Awesome patio and a central location to start your day after the work is done. The loud music makes for a great ambiance but not a great conference call, so plan to take any calls outside.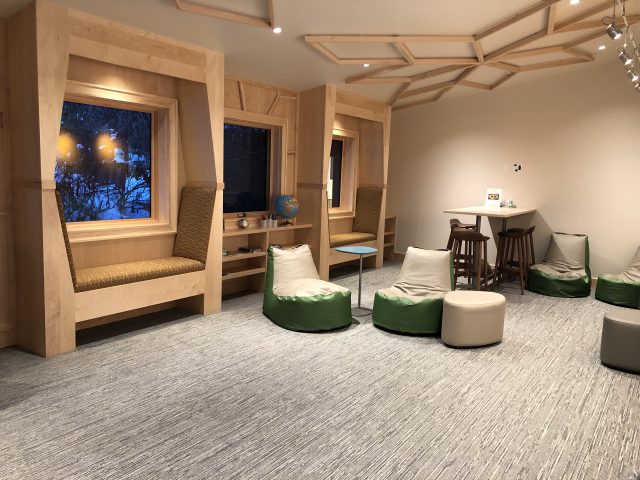 The Community Library
The Community Library is a Ketchum institution and the perfect place for uninterrupted work. The library has ample seating, plenty of electrical outlets, and the fastest WiFi in town. The newly remodeled library has several great patios and outdoor spaces as well to get some sun while you work. Talk to the librarian if you need a place to take a phone call or have a short in-person meeting; they have small rooms ideal for this purpose. The library also has public use computers if you've neglected to bring your own, as well as printing and photocopying available. Anyone can get a free library card, regardless of where you live, allowing access to a multitude of digital resources from streaming movies and digital books to tech tutorials on Lynda.com and an archive of livestreamed programs held at the library.
Starbucks
You might recognize the drinks at Starbucks, but the building (a recipient of the 2012 American Architecture Awards) and community vibe is unique. This Starbucks is one of the few locally owned in the United States and the building doubles as the Sun Valley Visitor Center. Open from 6 a.m. to 7 or 8 p.m. depending on the season, stop in for a latte or a glass of wine, connect to the free WiFi, and then hunker down to do some work.
Limelight Hotel
Located right in downtown Ketchum, the Limelight Hotel offers easy access and a full line-up of amenities. A few noteworthy perks at the Limelight include; free WiFi, comfy couches, sturdy work tables, pet-friendly spaces and afternoon/evening drinks & dining offered daily. If you're looking for a bit of quiet time, we recommend venturing there between 10:30am & 2:00pm. If you wrap things up by 4:00pm, you'll be just in time for well deserved happy hour. 
Sun Valley Resort
Log onto Sun Valley Resort's free WiFi and nestle into the lap of luxury as you return emails and chart projections. Grab a seat and a bite to eat at the Konditorei, or sip a glass of wine in the Duchin Room. In warmer months you can enjoy the Sun Valley Lodge patio or perch in the bleachers at the year-round outdoor ice rink and still access the WiFi service. Perhaps don't tell your colleagues that you're looking at a panoramic view of Bald Mountain as you work.
Ketchum Town Square
Ketchum Town Square is the center of the action on a warm summer day. Snag a table under a shade umbrella and connect to the free Ketchum Community WiFi. There aren't any plugs in the plaza, so be sure to arrive fully charged. Watch dogs and kids run through the square, catch a live performance on the community stage, and walk across the street to Atkinson's for lunch to go. Enjoy the community "joie de vivre" but don't forget to get that work done. The mountains are calling!
Ketchum Works
Ketchum Works is the place to be for getting some serious work done. Grab one of their 9 "hot desk" open work spaces for as little as $20/day for members and $30/day for non-members. In addition to these "hot desk" spaces, Ketchum Works also has a fully dialed conference room, a kitchen and cubicles that can be rented on a short term basis.  
Hailey Coffee
Hailey has two great locations in the valley. One on Sun Valley road and one on Main Street Hailey. Small little shops with great patios on some fairly busy roads. So if you need a little background noise thats not overpowering while you work then head here.
Have your own favorite place to catch-up on work at? We want to hear about it. Leave us a note in the comments below.