It started like most great ideas. After a series of stiff beers from Europe served at a local house of ill repute, some local emissaries lit on the idea of providing an economic impact study on the business that surounds mountain biking, more specifically bike park mountain biking. The arms race for summertime recreation has been heating up over the past few years with bike parks popping up like opportunistic weeds all around the world. With changes in bike technology and the growing momentum of mountain biking we felt there was a case to be made. Only a couple of years after that study was delivered on the doorstep of Sun Valley Company a flurry of planning, applying for permits, and corralling contractors, precipitated. Cutting to the chase, Sun Valley broke ground this late summer on what will be one of the biggest bike parks in the country. Working on a five year build out plan Sun Valley has taken the bull (er rather shovel) by the horns and dived right in to building a facility that will further the area's reputation as a mountain bike mecca. And so we felt it only appropriate to take a day and head up the hill to see what the hub-bub was all about. We were not disappointed.
With plans to construct the longest machine-built flow trail in the United States, at 11 miles in length with nearly 3400 vertical feet in overall elevation loss, Sun Valley Company has teamed up with the International Mountain Bike Association to put the area on the gravity mountain bike map. Using Gravity Logic, Alpine Bike Parks and Randy Spangler in the first phase to survey, plan, develop and build this multi-phase project, we are on our way to sheer all mountain bliss. The initial project scope will entail a diverse eco-system of trails with a mix of 35% novice, 58% intermediate, and 7% advanced terrain in the tradition of ski runs using a green, blue, and black rating system. Once our bikes were out of the truck and tires met dirt, it took about 5 seconds to realize that this was going to change recreation as we know it in the summer here forever and most definitely for the better.
With plans to have the first trails open by the start of next summer Sun Valley's trail builders are on a tight schedule with one of arguably the best jobs on the mountain or in the valley for that matter. We were lucky enough to snag a ride in one of the mountain's hardest working trucks to the top of the mountain and sample the goods for ourselves. Jostling up the tank trap service roads it was impossible to not have our thoughts keep circling back to winter, but with an Indian summer breezing through the open windows, the stoke level for ripping up this first phase's loopy turns and spring board jumps was infectious. If you have ever randomly whooped for joy inside an otherwise quiet vehicle and have everyone turn to you and offer a high five you know what I am getting at.
With a crew of passionate employees, Julian Tyo has spearheaded the project internally and been the rope pushing genius who got the project off the ground. Coordinating this innovative use with support from the USFS Ketchum Ranger District (whose district ranger, Kurt Nelson, is an admitted mountain bike nut) this project has ramped up in a relatively short amount of time. Frankly, it was mind blowing to see what had come together, and the thought of streams of mountain bikers sequentially roosting this trail's jumps and berms in a few short months gave me goosebumps. Once the Bureau of Land Management has completed their permitting, the system will reach from the summit of Baldy all the way to the valley floor. To put that in perspective we will have a downhill flow trail that is long enough to be considered a decent cross country ride, but it's all gravity fed. It's this sort of innovation and design without limits that first put the resort on the map for its chair lifts and snow making and now has the same potential to reach a similar level of notoriety in summer.
As we started dropping off of the top we immediately got the sense off all of the forces of Sir Isaac Newton combined with a Star Wars episode coming one after another in a rhythmic swing of gravity's pendulum. If you can imagine what it would be like to be a stream of water headed down the most epic mountain bike trail which kept tossing you up and then slowing you down, guiding you into corners and almost removing the need for brakes or a chain, you get the idea of what this sort of trail is like to ride. The section that was ready enough to be sampled was one of the beginner rated trails and though it will have a green dot on it, I was taken in by how you could make what you wanted out of it. Easily ridden slowly and conservatively or wide open doubling up jumps and ripping perfectly sculpted berms the options are limitless.
Though there are a lot of shovel fulls of dirt yet to be lifted and probably a couple thousand rake miles left to be pulled, you can't help but get fist pumping fired up for this project. With a small team which includes Mike Breen, John Sisko, Mike Gerstner, and Benji Charles doing a majority of the back breaking labor you will need to buy them a cold one or three when you see them around town next. As time plays out, I expect that this new bike park is going to be a hit with everyone from the die hard mountain biker to the reluctant partner to the ripping little grom to, yep you guessed, maybe even your mom. So get on the hunt for the right bike now, because next year you are not going to want to be left in the dust.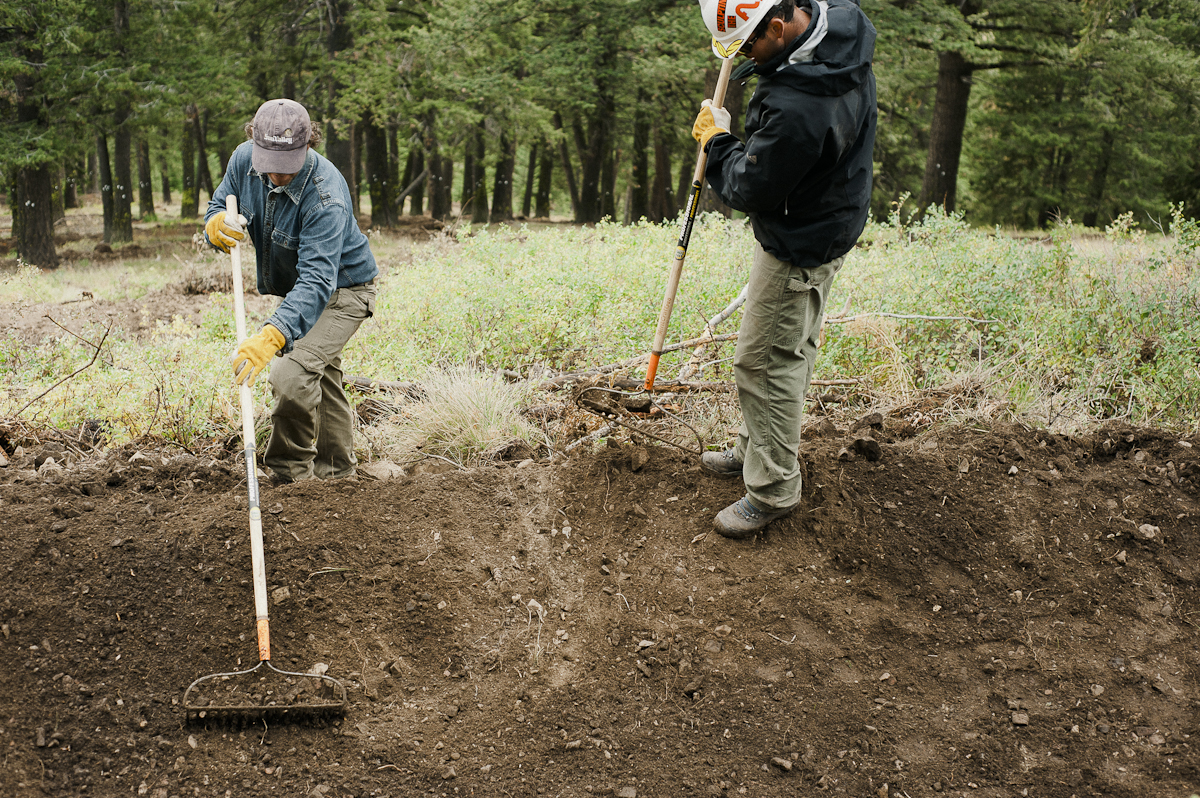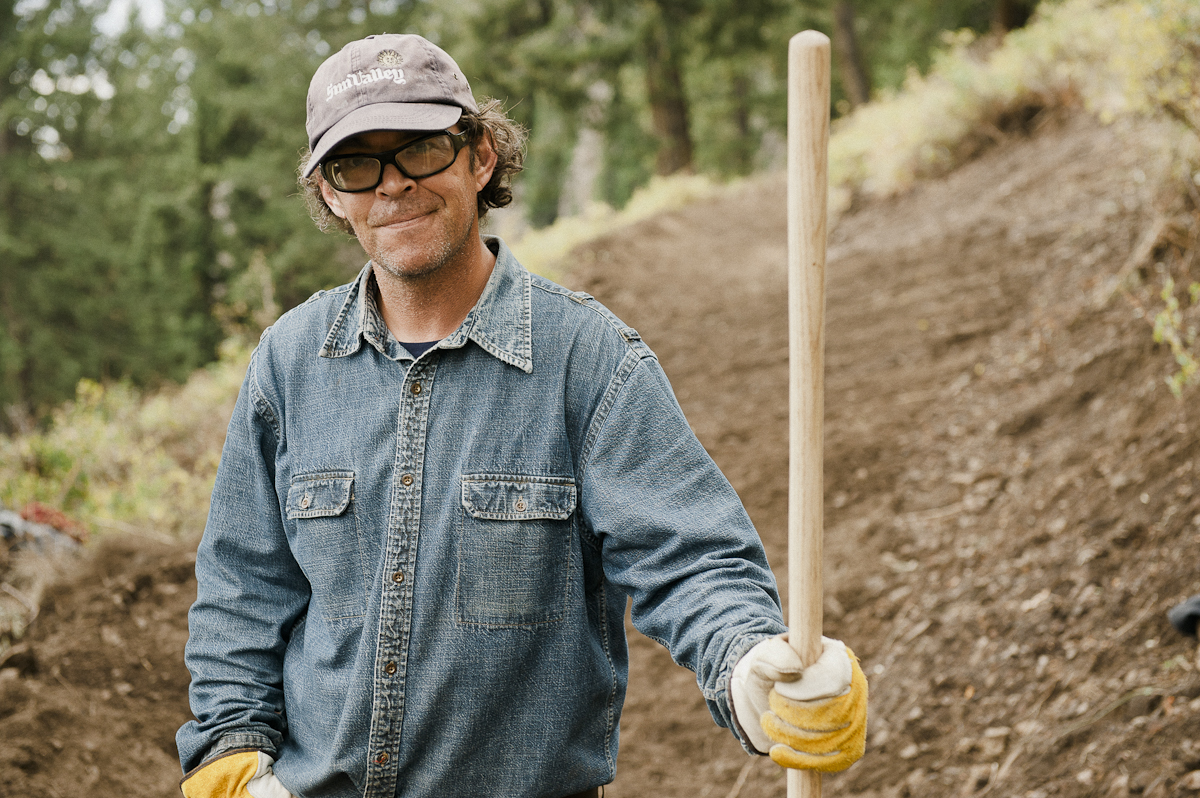 Photos: Tal Roberts