Sun Valley: A Place for Flannel-Loving Hipsters
Within a day's drive of trend-setting Portland, and with the help of nonstop flights into Hailey's SUN airport, big-town hipster culture has permeated the west. The influence of well-read, big-rimmed glasses-wearing and flannel-loving thirty-something's has even infiltrated the small resort town of Sun Valley. Here, microbreweries, handcrafted cocktails, great coffee and beard-trimming locations abound, making the trend-adverse hipster, feel at home. Take a walk in a pair of Birkenstocks, and try out Sun Valley, "hipster-style".
Dress the Part
As any true hipster would do, search for yet another well-worn vintage flannel at Sun Valley's Gold Mine Thrift store. Home to many classics including: Bogner one piece ski outfits, tight corduroys, antique Doc Martens, classic art, housewares and sporting goods, a fabulous find here will cost you less than a cup of Starbuck's coffee. And, chances are, no one else will have the very same same worn-in retro dinosaur tee.
Drink Good Joe
With many locally owned coffee shops dotting the streets, the sometimes-arrogant taste of hipsters is well accommodated for here in Sun Valley. Not far from the Gold Mine, Maude's Coffee & Clothes is a one stop shop to peruse vintage goods, from old school Marlborough trucker hats, to Sun Valley collectibles, to vintage Pendelton flannels and leather purses. Find your favorite one-of-a-kind item while enjoying a delicious cup of fresh brewed joe.
Lizzy's Fresh Coffee, albeit without the vintage goods, roasts beans every Monday through Thursday. Here, pick up a fresh roasted cup to go, or grab a bag of beans and your very own at-home coffee making equipment to try your hand in latte art.
Read Up
Hipsters are, of course, well read and up to date on the news. Remember that retro dino tee you scooped up from the Gold Mine? Great news! Profits from your thrifted goods support the Community Library, a privately funded public library since 1955. A gold mine in it's own for knowledge and soft, dog-eared paperback books, the Sun Valley Community library is a great place to kick back and finish that Hemmingway volume you started back in high school.
The Iconoclast Bookstore, now located just south of town in Hailey, is the perfect locale to pick up a new non-fiction paperback, kale cookbook, overly honest greeting card or gift for your next friend who has decided to procreate. The cozy new space features a broad selection of books on Idaho history, as well as an outdoor patio to catch up on work or a gripping novel.
Shop Local
Without a Wal-Mart or Target located within miles of the Valley, chain-adverse hipsters will love shopping in Sun Valley. Stores like Independent Goods, for example, aim to sell goods made only by independent workers who source materials from their country of origin. Here you can find unique gifts, art, housewares and books that celebrate artisans, craftsmen and craftswomen who create them.
Organic, vegan, or gluten-free? Kraay's Market, located just south of Sun Valley, is an organic, non-GMO farm that produces veggies like carrots, Swiss Chard, arugula, cabbage, broccoli and herbs, year round. Stock up with the company's free residential home delivery service.
Get Cultured
For those craving art, culture and music, the Hot Water Inn hostel provides a happening gathering spot for young adults. From live music, to parties, to Trivia Nights (the most recent was a benefit for Planned Parenthood and a local nonprofit), the Hot Water Inn offers casual place to grab a beer, listen to Indie music, or sit back and relax with a game of Gin Rummy.
Catch a performance or concert at The Spot, a local theater company and performing arts school, dedicating to telling the "difficult" stories of human life. The organization hosts concerts in addition to producing its own theatrical performances. For aspiring youngsters, The Spot also provides classes for those looking to dial in their monologue or brush up on their dance moves.
On the other end of the spectrum, Gilman Contemporary Gallery offers yet another artistic experience. Featuring both established and emerging artists, the gallery presents exhibitions including: photography, painting and sculpture. The rotating summer lineup includes: photographer Melvin Sokolsky's fantasy and surrealism-inspired collection, Maria Svarbova's "Swimming Pool" photographs and James Austin Murray's seemingly three-dimensional paintings.
Bike to Work, or the Bar
Car-free hipsters of the West Coast, accustomed to sound public transportation and bike-friendly roads, will feel much at home cruising the paved bike paths of the Wood River Valley. Taking a nod from nearby big cities, Sun Valley offer public transportation around town as well as 30 miles of recreational bike path. Blade, bike, or jog from Hailey to Ketchum to Sun Valley, while hitting bars or cafes along the way.
Drink Crafty
Hipsters and craft beer go together like fedoras and mustaches. The Sawtooth Brewery Public House has been quenching thirsty residents and visitors with locally-made ales since 2011. With 25 taps, the Public House offers everything from Pale Ales, to Ambers, IPAs, cider, wine and kombucha!
Roll up to the Warfield Distillery & Brewery on a sunny weeknight evening and you'll find bikes leaning against the brick façade, while thirsty patrons relax in the setting sun of the rooftop bar. Serving finely crafted ales as well as signature cocktails made with homemade spirits, the Warfield puts the "hip" in hipster.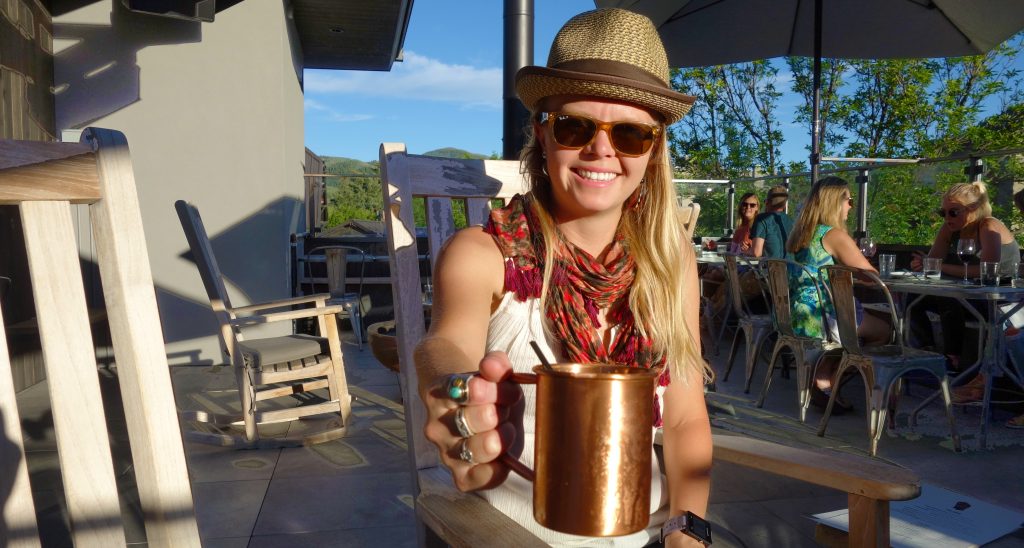 So whether you're visiting from Portland with your freshly-waxed mustache, or looking to try all things new and cool during your stay, rest assured, you'll feel at home in Sun Valley surrounded by the best in thrift stores, locally-sourced goods, handcrafted cocktails and bike-to coffee. Don those vintage Birkenstocks and get out there.